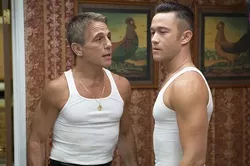 Don Jon | B+
The Battle of the Sexes gets waged by clueless combatants in Don Jon, a sharp social satire masquerading as a silly sex farce. Our Jersey boy protagonist Jon Martello (Joseph Gordon-Levitt) is oblivious to politics, sexual or otherwise, having reduced his interests down to the gym, his immaculate apartment, the corner pizzeria, the church and the nightclub, where he works and spends his off hours chasing bedroom conquests. Above all of this, on its own little altar, he has placed his sacred laptop, from which flows the endless river of pornography, which he candidly prefers to the real thing. You see, porno girls do things "regular" girls won't, they don't make you wear a condom, and they never, ever try to introduce you to their family.
This cozily circumscribed universe is imperiled the moment Jon lays eyes on Barbara Sugarman (Scarlett Johansson, at her most seductive), a blond, miniskirted dynamo who is at last worthy of the elusive perfect "10" rating, or as one of Jon's buddies charmingly reefers to her: "she's a dime." Barbara knows how to use every once of her feminine charms, from her pillowy lips to her lethal curves, to get what she wants out of a guy, and poor Johnny has no idea what he's up against.
But what she wants is to tame the savage beast, and mold him into more acceptable boyfriend material. Like Henry Higgins in high heels, she begins sanding off his edges: delaying sex, insisting that their friends mingle, making him enroll in community college classes to better himself. Jon grudgingly but almost unconsciously complies with her wishes, and even makes an effort to cut back on his porn consumption, or at least to do a better job of hiding it. Of course, as this is a comedy, the new domestic bliss is short-lived.
This is star Gordon-Levitt's debut as a writer and director, and it confirms the tremendous promise and intellect that he has shown in his canny script choices as an actor. For an actor that has excelled at playing sheepish romantic foils before (500 Days of Summer), he seems an odd choice to play a greased-up guido, but as in the bizarrely compelling fable Hesher, he squeezes a lot of authority out of his wiry frame. Johansson is all fluttery eyelashes and nasally baby-doll cooing, and she's rarely been better. The supporting cast is a delight, with Glenne Headly as Jon's sweetly ditzy mom, Brie Larson as his uninterested smartphone-addicted sister and, most amazingly, Tony Danza in a terrifically funny turn as Johnny's macho, football-obsessed dad.
Don Jon is razor-sharp and wickedly funny in its first half, though certain sitcom-like clichés are hammered hard, like the confessional booth, the token black friend and the "Silent Bob" character that only opens his mouth to drop a pearl of profundity. There is a repetitive nature to the jokes that is (thankfully) broken once Julianne Moore shows up as Jon's older, infinitely wiser classmate, who begins to teach him about the vital difference between losing yourself in sex, and losing yourself in another person. She too is a sort of a cliché, but Moore's character drags the movie into more mature, less cartoonish waters. If Don Jon does not offer a lasting détente in the war of the genders, it does smartly delineate the gap between men's and women's respective fantasy lives — and it surely will lead to an interesting date night.
Don Jon is rated R, has a run time of 90 minutes and is now playing. Watch the trailer here.