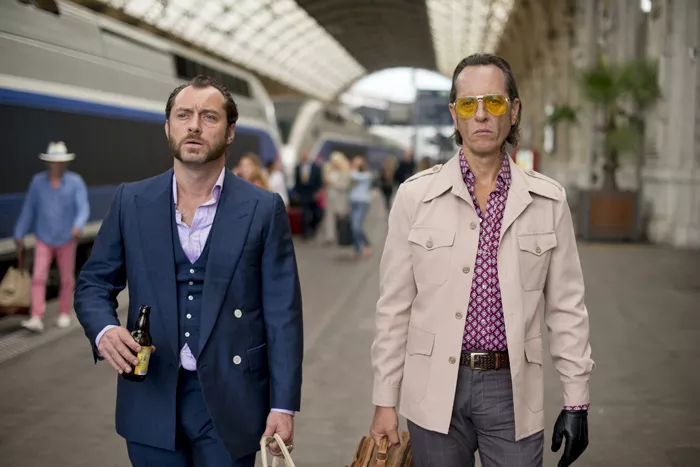 Dom Hemingway | B
Moments after the lights go down and the projector light hits the screen, it becomes obvious why the once-beautiful Jude Law jumped at the chance to gain weight and play the comic grotesquerie that is Dom Hemingway.
Things kick off in a tight shot of Dom's mutton-chopped visage as he launches into a profane Shakespearean soliloquy to his cock. Frothing with masculine pride, Dom's spittle-flinging monologue about his member makes clear that, if nothing else, time spent with this hyperbolic thug is going to be a hoot. Writer-director Richard Shepard (The Matador) caps things off with a visual gag (both meanings of the word) that announces the lewd intent of his wicked black comedy.
Just released from prison, Dom is on a mission to set 12 years of injustice straight. Oh, not legal injustice. Dom did the time because he did, indeed, do the crime (he's a notorious safecracker). Instead, he wants to pound on the bloke who married his ex-wife and force the Russian crime boss — Mr. Fontaine (Demián Bichir) — he remained silent about to pay him his due. And then some. To say that Dom lacks proper social graces would be an understatement. He's an impulsive, hard-partying hooligan with a glorious gift for profanity and serious anger-management issues.
Perhaps understanding this, he brings his best friend, Dickie (the marvelous Richard E. Grant) — a one-handed, martini-swilling cadaver who favors jaundice-yellow eyewear — to the south of France to call on Mr. Fontaine. Of course, Dom's unchecked rage nearly derails the reunion, leaving Dickie to smooth the mobster's ruffled feathers. Luckily, Mr. Fontaine is a cool-headed chap willing to reward Dom's loyalty and ignore his clumsy passes at trophy girlfriend Paolina (Madalina Ghenea). Needless to say, this turn of good fortune doesn't last, and Dom finds himself robbed of his riches and fleeing the scene of a violent accident. Returning to London, he's forced to re-examine his life, and he seeks out his estranged daughter (Emilia Clarke) as a means to redemption. To his chagrin, he discovers that she's engaged to a Senegalese man (Nathan Stewart-Jarrett), and the two have a child (Jordan Nash). Nevertheless, Dom tries to win her affections even as he struggles to cadge work from a dangerous up-and-coming criminal.
Shepard's drama is meandering, episodic and ultimately a tad conventional, but it's always moving forward with maximum thrust, relying on Dom's brash personality to keep things buzzing. And it works. Moment to moment, we can't help but wonder how this strutting thug is going to survive his own self-destructive impulses.
None of this would be possible, of course, without Law, who savors every ounce of his character's reckless motor-mouthed egomania. His performance is so damn entertaining that we gladly embrace every awkward shift in Dom Hemingway's tone, as the film veers from stinging bombast to surprising sweetness. Much like Ben Kingsley's turn as Don Logan in Sexy Beast and Samuel L. Jackson's Jules in Pulp Fiction, Dom Hemingway is one of those memorably larger-than-life film anti-heroes that could be considered career-defining. We hope it will usher in a more interesting second act for Law, whose star hasn't shined as brightly as his talent.
Dom Hemingway opens Friday, April 18. It's rated R and has a running time of 93 minutes.