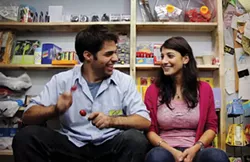 Sometimes sincerity and personality trump a well-crafted story. Local filmmaker Rola Nashef's first feature could probably have benefited from a stronger script, but that doesn't keep her shaggy-dog rom-com from bursting with infectious goodwill and charm.

Sami (E.J. Assi) is a twentysomething Lebanese-American headed for college. Tragically, his plans are derailed when his father is shot and killed at the family's Detroit gas station, leaving him to run the business with his fast-talking cousin Mike (Mike Batayeh).

Caught between modern American lifestyles and the Old World traditions of his culture, Sami literally finds himself caged behind bullet-proof glass, uncertain of where his life is headed. His days (and nights) are spent attending to a rambunctious menagerie of local characters and customers, while his mother (Mary Assel), paralyzed by grief, confines herself to their Dearborn home.

Then one day Naj (Nada Shouhayib), a spirited young beauty, walks into the gas station to drop off an order of phone cards. Sami is smitten. Shyly (and chastely) he begins to woo her during late shift visits and flirtatious under-the-counter conversations. Unfortunately, Naj is under the thumb of her bullying, overbearing brother, forcing the would-be couple to hide their deepening relationship.

Detroit Unleaded provides a fresh portrait of second-generation Arab-American culture, capturing the ebb and flow of race relations, economic realities and gender politics with a light comic touch. Nashef does a good job of depicting how Sami's gas station acts as a neighborhood hub for mostly African-American customers, only occasionally lapsing into stereotype. I question her decision to sidestep religion entirely, but the good-natured comedy is never less than sincere in its choices.

As a first-time director, Nashef keeps a surprisingly firm hand on the film's pace and energy but relies a bit too much on lingering closeups to convey character emotions. She's also ill-served by a storyline that's overburdened with obvious set pieces, hit-or-miss humor, and a third act that resolves Sami's conflicts too quickly. Luckily, the cast — a savvy mix of professionals and amateurs — is uniformly strong. Not only do they win our affection with goofy, well-sketched characters, they bounce off each other with a chemistry and authenticity that can't be faked.

More a diamond in the rough than a well-crafted indie, Detroit Unleaded is a warm and welcome ambassador for the unique rhythms and culture of modern Motown, and Nashef is a filmmaker to watch.

Detroit Unleaded is now playing at the DIA's Detroit Film Theatre Nov. 13-19, and has a running time of 93 minutes.