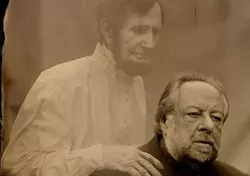 Deceptive Practice: The Mysteries and Mentors of Ricky Jay | B+
Honestly, could there be a more surefire documentary subject than Ricky Jay? Though Molly Bernstein and Alan Edelstein's filmmaking is more perfunctory than probative, the duo hit pay dirt when they secured the cooperation of this master magician, historian and character actor. Though many many know Jay as a Hollywood side player (House of Games, Boogie Nights, Magnolia, Tomorrow Never Dies), for more than 50 years he's been regarded as the ultimate old-school illusionist.
Bernstein and Edelstein chart little Ricky Potash's evolution from 7-year-old magician who learned card tricks from his grandfather to Ricky Jay, frequent guest on 1970s talk shows (Dinah Shore, The Dick Cavett Show, The Tonight Show) to the master illusionist and intellectual bon vivant he is today. His one-man show in New York City is considered a must-see performance, and his knowledge of the art and history of magic is widely respected.
The documentary's real draw, of course, is Jay himself. Watching him shuffle and cut a deck of cards is like watching Picasso color a canvas, and Deceptive Practice bounces between sleight of hand interviews and a rich cache of television and stage appearances. The archival footage is an amazing time capsule of his work, offering glimpses of the wonderful tricks, bits and illusions that made his career. An astounding appearance with Steve Martin is worth the admission price alone.
And like any great magician, Jay doesn't give away his secrets. Instead he conveys his passion and respect for the art form while providing little history lessons about the mentors who influenced him along the way. What emerges amid the many wonderful illusions on display is a portrait of stage performers who rarely found fame but lived to surprise and amaze others. Magic isn't just a hobby or business to Jay and his ilk, it's a religion that only allows a select few to join its congregation.
What's ultimately disappoints about Bernstein and Edelstein's film, however, is how little they attempt to reveal about their subject, never digging into Jay's background, motivations or personal interests. There are passing statements about his temper, his interest in music, and his late-in-life marriage, but none of it goes past simple statements of fact. For instance, Jay makes it clear that he suffered an irreparable split from his parents, but what happened or why is never hinted at. In fact, next to nothing more is said of his mother and father.
The overall narrative structure of Deceptive Practice is similarly loose and unfocused, which couldn't contrast more with Jay's absolute precision and control. One can't help but wonder what might have been had the filmmakers exhibited the same mastery over their craft as Jay does over his.
Nevertheless it's hard to argue with the end result. For 90 minutes, Ricky Jay captures your attention and dazzles you with his mastery of cards and history. He's a deceivingly modest man who knows how to direct the audience's attention away from whatever needs to stay hidden. In that respect, Deceptive Practice's shortcomings could be seen as an unintentional homage to a man who has built his entire life around secrecy and elusiveness.
Deceptive Practice will be screened at 9:30 p.m. Aug. 2-3, and at 4:30 p.m. Aug. 4, at the Detroit Film Theatre, inside the DIA, 5200 Woodward Ave., Detroit; 313-833-7900. It is not rated by the MPAA and has a running time of 88 minutes.