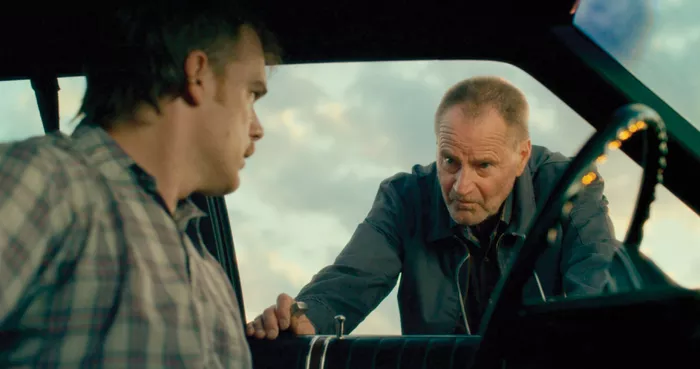 Cold in July | B+
Over the last decade, it seems that Hollywood has less and less interest in producing traditional crime thrillers unless they're bolstered by best-selling novels, megahit movie stars (e.g. Brad Pitt, Liam Neeson, et al.), or eye-popping action scenes. Multiplex screens have relegated atmospheric suspense flicks with well-drawn characters and unexpected narratives (a staple of the '90s) to the quieter release months of late winter and early fall. In 1993, three of the top 10 box office earners were thrillers (The Fugitive, The Pelican Brief, The Firm). There were none in the top 25 of 2013 (although Prisoners did much better business than expected).
Perhaps it's the avalanche of quality cable series (True Detective, Hannibal, the latest episode of SVU) that has driven the suspense genre to the fringe. Or, more likely, maybe it's the international focus of the big studios. After all, marketing a movie like Malice, Primal Fear, or even The Usual Suspects to South Korean and Chinese audiences must seem like a daunting proposition.
All of which makes comparisons of filmmaker Jim Mickle to '80s auteur John Carpenter all the more poignant. Mostly known as an indie horror director, Mickle applies both retro stylization and a post-modern sensibility to genre exercises. His 2010 film Stake Land and 2013's We Are What We Are were well-received scare flicks that boasted unexpected intelligence and subversive thematic instincts. His latest, Cold in July, is a sweaty, seedy slice of East Texas neo-noir — though it was shot (like all his films) in upstate New York.
Set in 1989 and taken from a novel by Joe R. Lansdale, it centers on family man and frame shop owner Richard Dane (Michael C. Hall), an ordinary guy with a mullet. Awakened in the middle of the night by a home invader, Dane shoots the would-be burglar, fearing for his family's safety. This quickly puts him on a collision course with the victim's ex-con father, Russel (Sam Shepard). But what seems to be a simple tale of vengeance spins into a complicated web of police corruption, Southern mafia atrocities, and vigilantism, culminating in a climactic shootout that's reminiscent of the 1977 revenge action flick Rolling Thunder, or even Martin Scorsese's Taxi Driver.
Mickle, who co-scripted with Nick Damici, clearly savors the snaky, sleazy zigzags in Lansdale's jarring, hard-boiled tale, both embracing and defying its genre conventions. The story doesn't dot every 'i' and cross every 't' — but it certainly makes every ridiculously sinister turn stick. Mickle is a low-budget stylist who creates a mood, tone, and pace that compulsively pulls you into an ugly world of macho male morality and chilling violence. Static shots give way to inventive — sometimes fussy — visual flourishes as Jeff Grace's prickly synth score (a direct reference to Carpenter's pulpy influences) bubbles beneath the plot's unsettling mysteries.
Hall is convincing as the everyman protagonist, and Shepard has one of the juiciest roles he's had in years, going so far as to pen some of his own dialogue. But it's Don Johnson, in his flamboyant cowboy duds and cherry-red Cadillac convertible, who steals the show. Weather-beaten but still sporting a twinkle in his eye, his Houston-based private eye (and pig farmer) is brilliantly underplayed (if that can be believed) and wholly magnetic. It's the kind of character you hope he gets to repeat in future projects.
Cold in July touches on the responsibility that fathers have for their sons, but it's an idea that could've used a little more fleshing out. While there's little doubt that Mickle is a talented and innovative filmmaker with an impishly wicked sense of humor, he's yet to prove himself an insightful study of human nature and relationships. As he catches more of Hollywood's attention, let's hope that bigger budgets means greater depth of character.
Cold in July opens Friday, June 6, at the Main Art. It's rated R and has a running time of 109 minutes. It's also available on VOD.