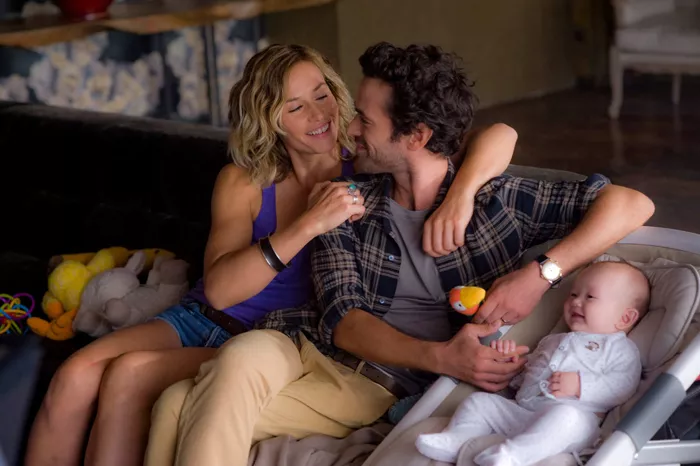 Chinese Puzzle | B+
Life is complicated. This is a universal concept. From New York City to grand Paris, we bounce around like pinballs while life bumps us in glee. French writer-director Cedric Klapisch has spent over a decade chronicling the misadventures of Xavier and his cohorts. Whimsical and pleasant, Chinese Puzzle is a fitting finale to Klapisch's rom-com trilogy.
Xavier (Romain Duris) is almost 40 now. He continually reminds himself that he's getting too old for this shit. By "this shit," he means the high jinks and dramatics caused by a divorce, a new surrogate baby, a move to New York City, and an arranged marriage. After living with his British wife, Wendy (Kelly Reilly), for 10 years, the couple has disintegrated. It doesn't matter why; they just have. It's complicated, he tells himself.
One of the last straws is Xavier's desire to help his lesbian best friend, Isabelle (Cecile de France), have a child. Wendy uses it as a way out and takes their two children across the pond. Distraught, our misguided hero leaves his blossoming writing fame in Paris to be close to his kids.
Klapisch introduces his muse at this point. Long sweeping shots, showing all the most beautiful lines and angles; romantic language reminiscent of a poet rather than a screenwriter; disregarding all flaws and putting the perfection on a pedestal. No, his muse is not Audrey Tautou; instead, he lets his love of New York City dictate the rest of the film.
When Xavier arrives in the Big Apple, reality is lost in baggage claim. He finds a free place to live, his heroic defense of a beaten cabbie results in a marriage-for-citizenship scheme, and, most unbelievable, he finds a job. Now, while all of this is enough to scoff at, Klapisch weaves such a delightful tale that you don't even care.
Repeating the complicated motif is of essence. Without the imagery backing up the plot, we would be left with mindless drivel. Klapisch follows one dramatic scene with a shot of clothes tumbling in a dryer. He masters repetition and uses it perfectly.
By time Xavier reconnects with Martine (Tautou), we're ready to focus on the chaos. Their love is, of course, complicated. It comes with kids and failed attempts, but Xavier starts letting the water flow instead of damming it up with contemplation.
Duris is a great actor. His rugged good looks mix with a sense of despair. He's almost a French Daniel Craig. Klapisch knows how to get the best from him. Sadly, Tautou's character is very one-note. Her talents are never really explored. It's a shame, but it's not a deal-breaker.
We get trilogies of robot fights and drunken best friends, the French get rom-coms with heart. Not fair. Chinese Puzzle is a lovely story that draws us in, even though we know that what we're witnessing is just as unrealistic as semis that turn into krav maga masters.
Chinese Puzzle is rated R and has a runtime of 117 minutes.