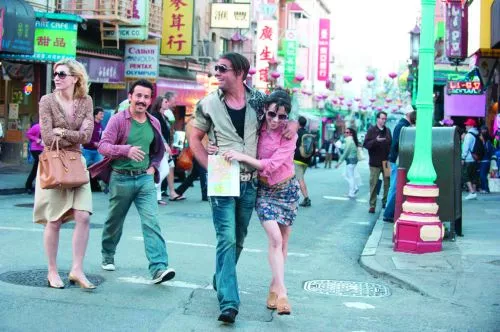 Blue Jasmine | B-
If nothing else, Woody Allen should be praised for providing film work for women of a certain age. Let's face it, except for intoning some elven mumbo-jumbo to a bunch of dwarfs, Hollywood doesn't seem to have much use for the formidable talents of Cate Blanchett. There is already much talk of an Oscar nomination, and her deeply committed performance as a manic, needy and smug riches-to-rags socialite is the main reason to watch Allen's 44th cinematic time at bat. But as good as Blanchett is, she's only asked to play two major notes in Blue Jasmine: entitled and emotionally unhinged. There's less depth to her self-absorbed character than her shrewdly layered performance lets on, as Woody prefers sketches to real human beings these days.
Jasmine (Blanchett), formerly Jeanette, is a fallen Manhattan trophy wife, barely recovering from a nervous breakdown after her cheating husband (Alec Baldwin) was found guilty of financial fraud and killed himself while in prison. With nowhere to turn, she washes up in San Francisco and moves in with her working-class sister Ginger (the wonderful Sally Hawkins). Divorced from blue-collar Augie (a surprisingly good Andrew Dice Clay) after Jasmine's husband cheated of them of lottery winnings, Ginger now works as a grocery store cashier and is engaged to a charming grease monkey (the always-welcome Bobby Cannavale). Jasmine's disdain for her sister's lifestyle and romantic choices couldn't be more obvious. Still, with no other option she is forced to try to reinvent her life. This means landing a job as a dentist's receptionist, fending off her new boss' advances, attracting the attentions of a widowed diplomat (Peter Sarsgaard) and imposing her haughty influences on frazzled, accommodating Ginger.
Like Tennessee Williams' Blanche DuBois, Jasmine is a difficult and demanding woman to like but hemorrhages a need for understanding and pity. Self-delusion and an unshakable belief that she deserves the upper crust lifestyle she desires have turned her into a pill-popping, martini-swilling (yet always well-appointed) basket case. Unfortunately, unlike A Streetcar Named Desire, Jasmine has no Stanley Kowalski to bounce off. Most of the characters around her either suffer, bristle or lust over her but nobody is significant or well-developed enough to provide much dramatic tension.
Allen's narrative is schematic yet sketchy, with clumsy monologues, an awkward and often superfluous flashback structure and a few too many contrivances. It's a shame, really, because with greater depth and detail Blue Jasmine might have been an incisive exploration of how far people are willing to delude themselves in service of the love and lifestyle they feel entitled to. Like Leslie Manville in Mike Leigh's better and more caustic Another Year, Jasmine is paralyzed by conceit, the aging pretty girl who can't understand why people just don't give her what she wants..
Interestingly enough, Allen not only acknowledges the class distinctions between the two sisters, but, remarkably, contrasts the sanity and decency of his 99 percenter characters against the selfish amorality of the WASP-y 1 percent — a culture that has charitably preoccupied much of his recent work. In many ways, his films seemed to long to be accepted into the rarefied social strata of the urbane, old money elite, charting their tragedies, neuroses and romantic adventures with affection and admiration. Here, however, he suggests that there is a deep and inevitable rot behind that manicured facade. It's a welcome shift in perspective.
Still, Woody seems to lack some fundamental understanding of what it means to be poor in contemporary America. On the one hand Ginger is shown to be eking out a minimum wage living as a single mom. On the other, she lives in a large, sunny apartment in San Francisco and, though her tastes are modest, doesn't seem to lack for much. It's an unfortunate sitcom view of reality.
Though Blue Jasmine has a tendency to hammer away at its themes, it at least shows that Allen still has a few interesting ideas floating around behind his horn-rimmed glasses. If only he had committed to his script as wholeheartedly as Blanchett commits to her performance, he might have demonstrated that he's still an exciting and relevant film artist rather than a former genius dashing off his latest passing thought.
Blue Jasmine opens Aug. 2, and is rated PG-13 with a running time of 98 minutes. Watch the trailer here.