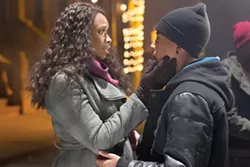 Black Nativity | C-
I try to avoid trailers when possible, so I was as surprised as the next guy that Black Nativity is not a documentary about a Norwegian death metal band, but is in fact an African-American holiday musical. Dancing is mostly confined to gospel choir swaying, but this is basically a traditional narrative musical, where characters drop everything and start singing their feelings at ear-shattering volume. Based on a gospel revival play by the great writer Langston Hughes, Black Nativity has been rendered inert by director Kasi Lemmons, who presents everything with a mixture of earnestness and solemnity that makes the whole experience a slog.
The storyline involves a painful split that keeps the proud members of the Cobbs family separated for many years, but, as the mystery unfurls, it seems more and more like a massive misunderstanding. Facing eviction, single mother Naima (Jennifer Hudson) sends her bright but rebellious teenage son Langston (Jacob Latimore) to Harlem to live with his well-heeled grandparents, who are strangers to him. It doesn't take long for the kid to get into trouble and for his overbearing Granddad Cornell (Forest Whitaker) to start sermonizing. Reverend Cornell is full of lessons about family values and black history, never missing an opportunity to quote Harlem renaissance authors or to rhapsodize about area landmarks like the Apollo Theater. The references, name-dropping and instructions get so heavy-handed that you half expect Whitaker to launch into a PowerPoint presentation.

Gramps makes a big to-do about the gold pocket watch given to him as a boy by the Rev. Martin Luther King Jr., a watch Langston promptly tries to pawn in order to pay his mom's back due rent. This doesn't go well, but starts a chain of events that reveals the identity of Langston's long-missing father, culminating in a big showdown and shameful confession in the church during the Christmas Eve service.

And then, heaven help us, Whitaker attempts to sing. To call his vocal prowess "weak" is too kind; he's horrid. Fortunately Jennifer Hudson can sing the birds out of the trees and, for a few moments, particularly during a wonderful rendition of Stevie Wonder's "As," the movie shows signs of life. This is sadly lost the moment Mary J. Blige pops up as a white Afro-sporting angel, and we remember that the absurdity and tonal inconsistency counters the film's very good intentions.

Black Nativity is rated PG, has a run time of 93 minutes, and is in theaters now.