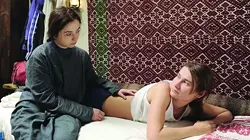 Beyond the Hills| A-
The films of Romanian writer-director Cristian Mungiu are not for cinematic sissies. They are stark, undemonstrative and emotionally devastating. For anyone who saw his Palme d'Or-winning 4 Months, 3 Weeks and 2 Days, it's very clear that his deceptively simple work — characterized by long takes and sparse exchanges — masks a complicated and agonizingly honest examination of life in his country, and by extension, humanity itself.
That may seem like a critical hyperbole, but there is extraordinary intellectual and emotional precision to Mungiu's work, which is exhibited full force in his latest offering, Beyond the Hills.
Inspired by the true story of a religious exorcism that went terribly wrong (do they ever really go well?) in the Romanian countryside, Mungiu takes us to a spartan, rural convent outside an unnamed village where we meet Voichita (Cosmina Stratan), a meek, dark-eyed nun in training. Voichita has gone to the train station to pick up Aline (Cristina Flutur), a hard-nosed woman she shared a friendship and a bed with as a teen at the local orphanage. Aline, angry and lonely in Germany, has returned to persuade Voichita to join her (with all that the reunion seems to imply). But her former companion has given herself over to the ascetic life of a nun, and has found a home at the monastery. This infuriates the volatile young woman, igniting an unconventional love triangle between her, Voichita and God. Torn between this contest of faith and friendship, the superstitious nuns get pulled into a hysterical psychodrama that escalates into tragedy, especially after the orthodox priest decides that supernatural intervention is required.
With an approach that's long, slow, and quiet, Mungiu assiduously avoids moral judgment, instead pulling us into an isolated world where we play witness to a struggle between the sacred and the secular, hope and despair, the ancient and the modern. Still, his intent is clear, Beyond the Hills not only examines the insidious nature of irrational love and faith — its contradictions and compromises — but crafts a tragic metaphor for where his nation is currently caught. Romania, like Alina and Voichita, is trapped by past choices, unable to see the devastating repercussions of actions that fail to consider or acknowledge the changing world.
The trick to Mungiu's style of filmmaking is that he is meticulously noninterventionist. Like an all-seeing God, his camera prefers wide, stationary angles that rarely tell the audience who or what to look at. His actors are similarly raw and unassuming, giving viewers the experience of watching life unfold rather than a story being told. It is a movie that rewards you for your endurance but nevertheless will test the patience of the average moviegoer.
Much like Michael Haneke's movies, Beyond the Hills never specifically tips its hand as to what the story behind the story might be. While it is obvious that Voichita and Alina are at a crossroads in their intimate relationship, we can never be sure of their background, motives or context. Mungiu leaves everything up for interpretation, respecting the audience to reach its own conclusions even as the young women's situation reaches its tragic close. Ironically, society's final judgment about what the priest and nuns have done is delayed as authorities search for a missing prosecutor. It's only the final shot, of mud splashing onto the window of the police car transporting the confused priest and nuns, that makes clear how hard it is to wipe away the dirt that often accompanies our choices. mt
Opens Friday, March 29, at Landmark's Main Art Theatre, 118 N. Main St., Royal Oak; 248-542-5198.