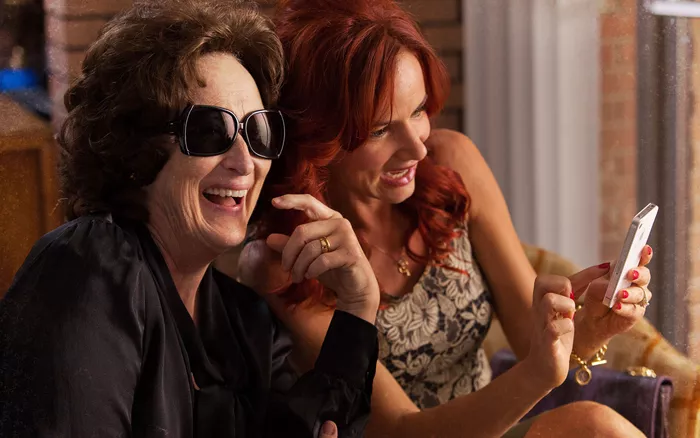 August: Osage County | C+
We hope dinnerware is cheap in Oklahoma, as an awful lot of it is broken by the angst-ridden characters in this labored screen adaptation of Tracy Letts' 2008 Pulitzer and Tony award-winning play. The immensely talented cast also chews through any and all scenery, stopping just short of gnawing through the musty floral wallpaper that coats the film's farmhouse setting like a dread fungus. Inside that lonely, creaky old house is a rat's nest of bitterness, hurt feelings, cynicism and decades of resentment, all of which comes gushing to the surface as a profoundly dysfunctional family gathers for a funeral. The departed is the family's cherished patriarch Beverly Weston (Sam Shepard), an acclaimed poet and self-medicating drunk who seems to have taken a voluntary exit from this trail of tears. Soon you will come to envy him.
The living are left to contend with Beverly's monstrously hateful wreck of a wife, Violet, played with "Can I have another Oscar now?" intensity by a mesmerizing Meryl Streep, who spends the movie hissing at everyone like a vicious rattlesnake in a disheveled wig. There's no escaping Streep's epic performance, as she's constantly shouting over everyone and cutting them off mid-sentence, so that she can dispense another lacerating putdown. Through a haze of cigarette smoke and fistfuls of prescription painkillers, Violet lashes out in all directions, holding her relatives personally accountable for their own failings, and for her miserable, diminished current condition, including the painful mouth cancer that has not managed to still her venomous tongue.
Despite the specificity of their collective wretchedness, the characters all feel sort of stock: Juliette Lewis is the floozy daughter, who shows up with her shallow, cellphone-obsessed new boyfriend, (Dermot Mulroney); Julia Roberts is the tough, unforgiving oldest daughter tasked with holding all this chaos together. Abigail Breslin is the generically rebellious teenager. Ewan McGregor plays Roberts' estranged, adulterous husband, but given the circumstances, he's sort of relatable.
Poor Benedict Cumberbatch is stuck playing the mumbling, hapless sensitive soul, who is not-so-secretly in love with his cousin, the wispy Ivy (Julianne Nicholson). This is the most aggressively unpleasant family gathering film since the punishing Margo at the Wedding, or maybe since the last Klumps movie.
Streep runs roughshod over all of it, with a display of acting that must be appreciated, but with a role that is so loathsome it's hard to understand why she bothered. In fact, most of these are the kind of meaty, showcase parts that actors love to sink their fangs into. All this vitriol might work better on the stage, but bigger than life and in tight close-up, the familial nastiness becomes insufferable. TV producer-turned-director John Wells lights everything like an ad for cholesterol meds, and his attempts to disguise the piece's staginess involve long car rides through the flat, sun-baked plains, offering little relief. There's no escaping the grim, relentlessly mean spirit of the material, and despite the quality of the cast, there's precious little reason to care.
August: Osage County is rated R, has a runtime of 121 minutes and is in theaters Jan. 10.