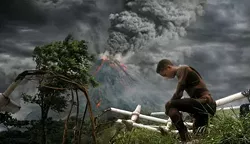 After Earth| C-
Is there a more satisfying career implosion than that of M. Night Shyamalan? Observe his descent from Oscar-nominated director (The Sixth Sense) to cinematic laughingstock (The Happening). Far be it for me to wish ruin upon anyone, but the filmmaker all but invited derision from those in my field when he spoke long and loud of his genius and then in The Lady in the Water brutally murders an arrogant film critic and casts himself as a writer whose work brings about world peace. Stay classy, M.
Though I went into After Earth with profoundly low expectations, this one-note sci-fi drama isn't nearly as insufferably misguided as, say, Shyamalan's The Last Airbender. More than anything, this Smith family vanity project suffers the sin of mediocrity.
Cypher and Kitai Raige (Will Smith and son Jaden Smith) are a father and son who crash land on Earth 1,000 years after humans left it behind. Cypher is critically injured, which means that wet-behind-the-ears Kitai must venture into a hostile wilderness to retrieve a rescue beacon that will bring them help. There are all manner of digitized creatures standing in the terrified teen's way, not the least of which is a blind alien monster called Ursa, who tracks humans by the pheromones they secrete when scared. Luckily, big brave papa is guiding Kitai every panicked step of the way via holographic monitors. Until, predictably, the boy must learn to stand on his own.
And that's pretty much it. Shyamalan is good for a few competently staged action sequences, but his plot is so single-mindedly dull that it feels like a video game, pushing Kitai along to his next dangerous encounter, throwing in a few simplistic puzzles along the way, then forcing him to face off against the big blind boss. And don't get me started on the story's more illogical conceits. Are we to really believe that future humans, capable of interstellar flight and developing suits that adapt to their environment, don't have guns? Or projectile weapons of any kind?
Steven Gaghan and Gary Whitta's dialogue is similarly hackneyed, and far-too self serious (there's nary a chuckle in the whole film). Though it never quite crosses into the unintentional parody of: "If you do not master your fear, fear will be your master," it comes awfully close.
Will Smith, who can be an enormously appealing actor, is mostly a blank slate here. It's one thing to play your character as an emotionless hard-ass. It's another to portray him as completely emotion- and depth-free. Son Jaden, on the other hand, does most of his acting by furrowing his brow. He's a handsome kid and handles the physicality of the role just fine but, please, someone get him a diction coach.
Ultimately, Shyamalan's movie is about one thing and one thing only, an on-the-nose adventure that unimaginatively references the tropes of many better, more thoughtful science fiction films. With no metaphor or larger point to make, no emotional depths to plumb, After Earth seems to regard its story as an afterthought.
Rated PG-13. Running time: 100 minutes.