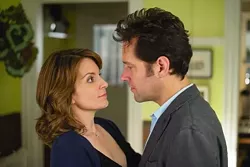 Admission | B-
Tina Fey wears many crowns: Best-selling author, sitcom mogul, awards show host, working mom icon, Internet meme generator and comedy glass ceiling shatterer. Sadly, a title that has so far eluded her is movie superstar. She's had successes (Mean Girls), but mostly Fey's film work has failed to capitalize on the smarty pants surrealism that made 30 Rock so beloved. The problem is that Fey is so fiercely protective of her image as a "you can have it all" women's empowerment avatar that she tends to pick scripts that reinforce those themes rather than just worrying about which project is the funniest.
Admission is an exceedingly mild comedy, which, in this caffeinated era of extravagant dude-centric gross-out humor, is sort of admirable. Fey stars as Princeton college admission officer Portia, the sort of tightly wound, careerist working gal that has fueled the romantic-comedy-industrial complex for decades, and indeed the script was co-penned by Aline Brosh McKenna, perpetrator of such cinematic hate crimes as 27 Dresses. What distinguishes this lady from your average Reese Witherspoon heroine is that Portia actually uses her bookshelves for something more than an architectural accent piece. Sure, she's status-obsessed, but her obsessions are more in line with the haughty air of Ivy League academia. Everything about Portia's life, from the well-groomed bonsai tree on her desk to her bookish and tweedy long-term boyfriend (Michael Sheen), seems designed to convey an enviable life straight out of the Sunday New York Times Style section. Having spent more than a decade toiling away, the dutiful Portia is finally in line for a promotion, but has to duel it out with an ultra-prim rival, smartly played by Gloria Reuben.
Since this is a Hollywood fiction, it's only a matter of time before this cultivated snow globe shatters, which happens when our heroine makes a visit to a newly accredited alternative school, run by her scruffily handsome, freewheeling Dartmouth classmate John (Paul Rudd), who forcefully champions an unorthodox candidate for Princeton. Amiably goofy, but preternaturally bright senior Jeremiah (Nat Wollf) has lousy grades but phenomenal test scores, and he's just the sort of uniquely talented kid that tends to be chewed up by the rigid admissions process. John believes in his student, but he has other secret motives for promoting him to Portia, which leads to a variety of messy, complicated human interaction that she has worked so hard to avoid.
A decade ago Paul Weitz directed the first American Pie, a raunchy comedy megahit that assured him continued employment, even when his subsequent results have been somewhat helter-skelter.
Weitz fails to set a comedic pace, and he can never quite balance the levels of this achingly sincere "dramedy," which is best when parodying the regimented phoniness of adulthood, but could have used some more satiric sting. At least the cast is ready and willing to bail him out.
Lily Tomlin is delightfully sour, as Portia's pretentious, radical feminist single mom (with a Bella Abzug tattoo!), but there is never enough screen time for this ace veteran to really roam free. The ever-engaging Paul Rudd (This is 40) is forced to dial it down here, as the sweetly idealistic romantic foil. There are a host of end credit outtake reels and DVD extras dedicated to Rudd's improv skills, but here he's forced to mostly stick to the script, and spin his heels waiting for the punch lines to arrive. Still he does have easy chemistry with Fey, and together they are one of the more likable and plausible romantic pairings in recent memory. Their charisma helps smooth over the bumpy plotting and occasionally mawkish turns in the screenplay. Admission is ultimately passable due to the charm of the leads and the sprinkling of some very smart gags, though it's hard not wonder if they're achieving their full potential. mt