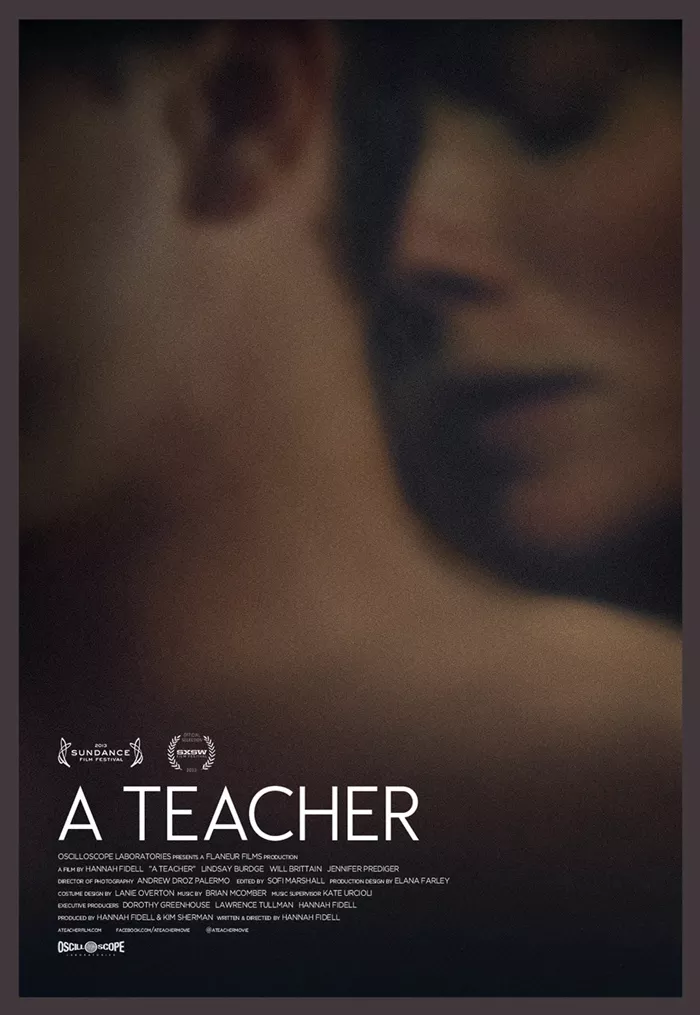 A Teacher
Netflix; 75 minutes

The subject of female teachers having affairs with their male students seems to have been in the news a lot of late, and there are always two distinct responses in the online comments — "Wow, I wish I'd had that teacher when I was at school," or "This is as disgusting as it would be if the teacher were male and the student female." Usually, there'll be a ton of back and forth, and it's on that uncomfortable line separating laddish MILF jokes and statutory rape where A Teacher, Hannah Fidell's flawed-but-watchable indie flick, sits.
Diana Watts (Lindsay Burdge) is a pretty young teacher who can't find any common ground with men her own age. Her roommate Sophia (Jennifer Prediger) tries her best to set Diana up on interesting dates, but they never go well. Instead, Diana meets student Eric Tull (Will Brittain) in alleys for some passionate backseat sex.
The ages of the two lovers are never revealed, but an educated guess would place Diana in her late 20s and Eric at around 17. What starts as apparently consensual casual sex develops into uncontrollable obsession for Diana, who, despite moments of clarity and guilt, can't stop seeing Eric. However, throughout the film, Eric appears completely in control of himself.
So here's where we enter treacherous waters. The movie depicts a male who seems to be playing with a female's emotions. He's obviously aware that he has Diana begging for him, and his expressions suggest that's exactly what he wants. Diana is the adult, but she's the one sending the titty pics to his cellphone and then panicking and having him delete them. As the film progresses, she's the one crying uncontrollably when he walks out on her, she's the one showing up at his family home and causing a scene, and so on.
Taking the age difference out of it, these are the sorts of scenes we see in movies all the time, and, of course, our instinct is to sympathize with the victim of the emotional abuse. At times, that same instinct takes over here and we find ourselves thinking, "Eric, quit being such a tool." Then we remember, Eric is still a child and it's unreasonable to think that a boy in his mid-teens (basically a walking hard-on) should have the emotional maturity to deal with an adult relationship, with an adult.
Kudos to Brittain — his performance as Eric is quite brilliant, skirting the line between popular-kid-idiocy and teen-ignorance with a shitty smirk. Burdge does a pretty good job as Diana, though by the midway point her facial tics are a little Homeland. Considering the fact that the film only clocks in at an hour-and-a-quarter, the build to the inevitable conclusion is nicely paced, though the end is far from satisfying.
Fidell's script is intelligent and bold, daring viewers to question their own moral opinions. We always know what we think based on cold, hard facts. Throw emotional turmoil into the mix, and A Teacher forces us to second-guess ourselves.