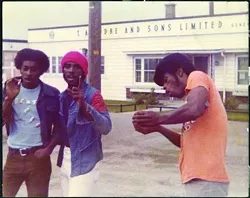 A Band Called Death | B
Here is another story about long-brewing rock 'n' roll redemption, a miraculous tale about an unlikely spiritual and artistic rebirth springing up though the gray, cracked concrete wastes of abandoned Detroit dreams. A Band Called Death is a gripping documentary about a family of talented musicians that played inventive, soulful, kick-ass proto-punk — music that was years ahead of its time, but through the quirks of fate, took a long, tortuous path to notoriety.
It's a fine story — and emotionally rewarding — but one that prompts the obvious question: Why is this town so quick to ignore talent?
In this case, there are a few obvious reasons for delayed fame, reasons that speak not only to the vagaries of creating art, but to the unique cultural and environmental factors specific to the Motor City.
You want the short answer: They were black and played heavy rock and roll in Motown back in the early '70s.
While that doesn't seem like such a big deal — Jimi Hendrix did all right — but in the story of Death, race, location and era were insurmountable obstacles. The band also had its own internal issues and, as is often the case, they were intensified by family connection.
Brothers David, Bobby and Dannis Hackney grew up in a good home in a tough neighborhood, and began playing music together in their teens. They began playing a standard-issue blend of pop, R&B and funk, but soon gravitated toward the heavier sounds being thrown down by the likes of the Who, Led Zeppelin and Detroit's own shock-rocker, Alice Cooper.
David was the group's leader and creative futurist, and his shift to deeper, faster and more intense soundscapes coincided with a spiritual, psychedelic awakening.
Oh, yeah: maybe some drugs.
Literally seeing a vision in the clouds, partly inspired by their father's accidental passing, David dubbed the band "Death," a decision that would later prove disastrous once record labels came calling and the boys refused to compromise.
They made some recordings, released a single that went nowhere, played some random gigs, but by the end of "the me decade," the band had called it quits.
The tapes were stashed in an attic and mostly forgotten. The rhythm section of Bobby and Dannis moved to Connecticut, of all places, and made a go of it for years as a fairly cheesy reggae act. Meanwhile, sensitive and haunted David wandered ever deeper into his own rabbit hole and never came back.
Eventually, almost accidentally, their legend grew — until copies of their long-lost 45 found its way to savvy music nerds like Detroit's Matt Smith, a noted musician, scenester and venerable scholar of all things bubblegum, pop and space-rock obscurities.
Vinyl heads spread the word nationwide and once rare copies of the single started selling online for $800, the rest, to abuse a cliché, is history.
Comparisons to last year's Oscar-winning box-office and critical smash Searching for Sugar Man are inevitable, so let's tackle them. Unlike the enigmatic oddball Rodriguez, the Hackneys are a jovial, camera-ready bunch, prone to infectious laughter at their own jokes.
Their music however, is intriguing, but less accessible to mainstream audiences than that of Rodriguez, which made his lack of domestic success more curious; while Death's heady, progressive pseudo-punk is good, but not instantly hummable.
Also, visually this is not as adventurous a film, but the warmth of the human drama is hard to resist.
While it may be unfair to equate these tales of failure and ultimate resurrection, they do come from roughly the same time and place, and share a dirty secret: The Detroit music scene is rarely willing to embrace an artist until we've been given permission from an outside source. mt
A Band Called Death opens in theaters on Friday, June 28. Check your local listings for screens and times.