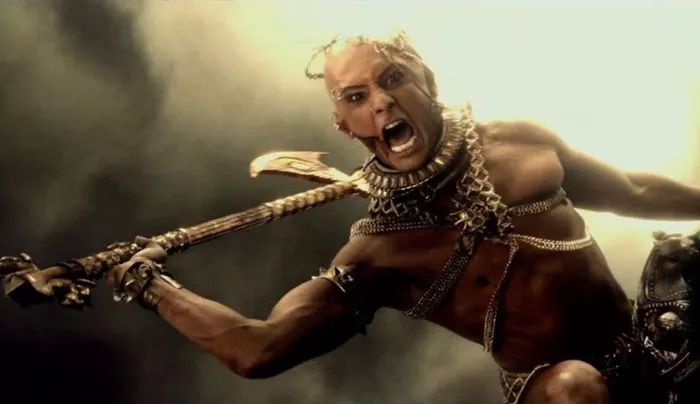 300: Rise of an Empire | C-
Grunt, slash, snarl, stab. Repeat. This is the primordial formula at the bloody heart of this relentlessly violent and unpardonably cheesy follow up to 2007's surprise blockbuster 300 — the movie that made the multiplex safe again for shirtless, sword-slinging savagery. The original flick, directed by the style-over-substance evangelist Zach Snyder, was adapted from neo-fascist cartoonist Frank Miller's very graphic novel, which mauled ancient history with reckless glee. The long-delayed sequel shifts the action from the heroic sacrifice of Leonidas and the Spartan elite at Thermopylae in 480 B.C, to the naval battle of Salamis taking place at roughly the same time. Steely eyed and tragically bland Themistokles (Sullivan Stapleton) leads the outnumbered Athenian navy against the Persian fleet and their vicious field commander Artemisia (Eva Green), a Cretan turncoat who now serves at the feet of the maniacal Emperor Xerxes (Rodrigo Santoro). Years earlier, Themistokles slew Persian King Darius at the battle of Marathon, leaving his wrathful son with a permanent revenge hard-on to destroy Greece. Meanwhile, newly widowed Spartan Queen Gorgo (Lena Headey) is left to rally the rest of the squabbling Greek tribes to unite and repel the invading hordes. Yes, there will be a pop quiz.
Lost in a haze of endless paparazzi dust-ups, loutish behavior and scores of miserable rom-coms is the memory of Gerard Butler as a legitimate big-screen badass. With his chiseled wall of muscle and charismatic bellowing, Butler cut a dramatic figure, and his energy is sorely lacking in the follow-up. Sullivan is appropriately stoic and skilled at stunt work, but a dose of charm and swagger would've helped spice up the brief quiet moments between beheadings, disemboweling and fountains of CGI splatter. The only actor who seems to be in on the joke is Eva Green, who camps it up to beat the band, slithering around and spitting venom with glee. Her character's wanton lustiness climaxes in an utterly insane sequence that sees her dueling with the hero first verbally, then in a delirious demonstration of rough sex as warfare, a spectacle that must be seen to be believed.
Initially, the well-staged naval combat is impressive, until you realize the main strategy involves ramming the enemy's boats. In a flashback we see Themistokles pick off a foe from a quarter mile away with a bow, but he conveniently seems to forget that talent. He does think it's a good idea to bring a horse with him to a sea battle. (And the Athenians were supposed to be the smart ones.)
When the stars aren't gouging out eyeballs, there is much "Freedom isn't Free" rhetoric laced with questionable history and murky racial politics. The villains can easily be distinguished by their black space ninja outfits, and their commander's penchant for draping everything in flashy bling. The hairless, oiled-up Persian emperor Xerxes is laden with more gold chains and baubles than a lineup at a Mr. T look-alike contest — all that's missing is a pimp goblet. He's so decadent that even his voice is auto-tuned. In this epic, world-changing clash of cultures, the bad guys are mostly depicted as swarthy, olive-skinned and sinister, while the heroes are strikingly Caucasian and blond, with more six-packs on display than at 7-11 on Super Bowl week. There are hundreds of casualties here, but the biggest victim is history.
300: Rise of an Empire is rated R, has a run time of 102 minutes and is in theaters Friday.