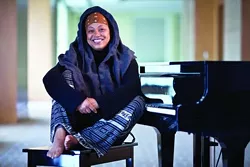 20 Feet from Stardom | B
Behind every superstar, and just about every hit single, there is an unheralded legion of session players, studio engineers and backup singers who make the superstar sparkle — just a little bit brighter.
Some of these talented but often overlooked songbirds get to snag a little applause in this satisfying documentary, which exposes some of the faceless voices that have long toiled in obscurity.
While there have been countless such vocal artists over the decades, director Morgan Neville puts most of the focus on three of the greatest: Darlene Love, Merry Clayton and Lisa Fischer. Each of these ladies has incredible pipes and amazing dedication, but the multitude of reasons they aren't household names is the intrigue that drives the film. What makes a star stand out from the crowd? No matter how strongly Neville poses the question, the answers remain elusive.
Besides their talent, their race and backgrounds in gospel, the singers depicted here have had fairly diverse paths through show biz. For a sizable chunk of her career, powerhouse Love was trapped in a contract for the odious mad genius Phil Spector, who manipulated people as expertly as he fiddled with knobs on a soundboard. Merry Clayton recorded a few formidable, soul-driven solo albums in the '70s, but despite high quality, and her ambition, for unquantifiable reasons none caught on.
Sure, she never broke out as a success on her own, but Lisa Fischer has been touring regularly with the Rolling Stones since 1989, which could be considered a successful career in music by just about any definition.
Like a quarterback treating his O-line to a steak dinner, a number of legendary rock stars, including Bruce Springsteen, Stevie Wonder and Mick Jagger, all line up to sing the girls' praises; wisely so, these are the folks that make them look good.
And, damn, do they look good. Music buffs will be hopeless in the onslaught of studio cuts and archive footage, including such delicious sights as a full-powered, fur-chested Tom Jones belting out "River Deep Mountain High," or a baby-faced Luther Vandross backing David Bowie on "Young Americans."
While these wonderful women shared the stage (and, occasionally, beds) with world-famous rock stars, there is a refreshing humility within most of them, and a wise understanding that not everyone who deserves it finds fame.
When not praising them to the rafters, the movie wants to layer elements of melancholy for their stifled hopes, but it's a bit hard to be sad for these folks. There is a bit of fretting about the future, and a wee taste of sour grapes, but when the music is this good who can complain?
Though it never quite digs as deep as it thinks it's going, 20 Feet from Stardom is a richly entertaining experience, mostly because the music does so much of the work.
20 Feet from Stardomis in theaters now and is rated PG-13. Check your local listings for locations and times.