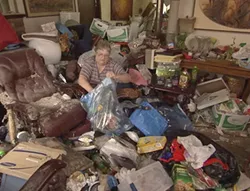 It is primetime's equivalent of a massive train wreck, like the spectacular crashes in the forthcoming Denzel Washington movie Unstoppable, only these disasters take place inside somebody's home. And apparently, as with railway catastrophes, we find it almost impossible to look away.
I'm talking about hoarding, the compulsive urge to collect — well, anything, from bric-a-brac to food or cats, to the total disregard of available space or common sense. It is a conspicuous dark side to our insanely materialistic society (do you seriously think there are many hoarders in Uzbekistan?) and TV viewers seem to be as obsessed with the people who do it as the people are with their possessions.
At present there are three (count 'em!) cable reality series devoted to the mental disorder: Hoarders, the original and best, is now in its third season on A&E at 10 p.m. Mondays, usually preceded by at least one repeat episode. There's the more clinical Hoarders: Buried Alive (or as I call it, "Hoarders Lite"), slated at 9 p.m. Sundays on TLC but with a special episode scheduled for 7 tonight (Wednesday). And, not to be outdone, producers of the hit show Intervention — which usually airs next to Hoarders on A&E — sold Animal Planet on a spinoff called Confessions: Animal Hoarding, normally running at 9 p.m. Wednesdays. (The series is in a brief hiatus now, but clips can be seen at the show's website at animal.discovery.com.)
In my home, this is appointment television. My wife, Karen, and I never miss an episode of the three if we can help it, often DVRing them so we can watch leisurely (and replay the especially horrific or unbelievable scenes) at bedtime. I concede we may be a bit over the edge in our hoarder-gawking, but we're not alone: The third season premiere of Hoarders last September was the most-watched original series return in the 26-year history of A&E, seen by more than 3.8 million viewers. And since there are an estimated 3 million people with the condition, according to Hoarders' opening slate, there are enough potential candidates to keep all three shows in business for eternity.
Why? Why should the tales of otherwise fairly normal looking folks living submerged in collectables, mold, garbage and animal feces ("They always have cats!" wails one contributor to the Hoarders IMDb message board) hold such lurid fascination for so many? I posed the question to Grand Haven-based clinical psychologist Walker M. Parmelee, Ph.D., one of the most prominent therapists in west Michigan and, it should be noted, a lifelong friend. After all these years, I've finally found a reason to work him into a column.
Parmelee wasn't familiar with Hoarders or its imitators — he likely sees enough abnormal behavior in his day-to-day life — but his daughter, Kate, clued him in to some episodes. "Some may watch because they are fascinated by people who are completely overtaken by their 'stuff,'" he opines. "Americans consume an enormous amount of goods compared to any other country, and I believe we all struggle with what to do with it all. Note the boom in store-and-lock storage facilities in the past 20 years.
"Viewers may feel better about their own struggles by seeing someone else who has even more difficulty. Some may watch for the voyeur factor, the thing that compels us to look at a car accident even though we know we should look away. Some may watch to see the people gain more control over their lives. And the viewer may want to understand their own inability to toss out something that is no longer useful, like the old T-shirt the wife keeps threatening to throw out. They may hope to gain some personal insights by watching the show."
There's also the chilling possibility you may be living next door to or working alongside a hoarder and not know it. Or worse, that you may be a hoarder and not realize it. If you see a phalanx of 1-800-GOT-JUNK trucks wheel to a stop in your neighborhood, consider it a tip-off.
Each hour-long Hoarders episode examines two case studies, and nearly every one shares the same elements. There's a jaw-dropping, frequently nauseating accumulation of crap, and a hoarder who is in complete denial and disdains the term "hoarder," preferring to be considered a "collector." One woman, Vula [cq], from Kokomo, Ind., couldn't acknowledge she might have a problem even as the flattened carcasses of her dead cats were being pulled from beneath mounds of rubbish. There are relatives who are totally disgusted with the hoarder's living situation, and a crisis event — usually a threatened condemnation of the property or removal of children from the home — that has triggered a reluctant acceptance of assistance.
The subject is visited by one of several psychologists who specialize in compulsive hoarding issues. Robin Zazio, Ph.D., she of the gentle nature and expansive forehead, is my favorite. Their calm and restraint is incredible. If I walked into some of these homes for the first time, my instinctive reaction would be, "Can't you see this? Can't you smell that? What's wrong with you?" Tears, yelling, threats and eventual tacit resignation usually ensue. At the end, handed a near-impossible two days to clean as much as possible, a team of professional organizers performs miraculous feats, as seen in before-and-after room shots. It's a winning formula, and one that's certain to be repeated for years to come. I know my wife has an overwhelming urge to clean something, anything, after each episode. Me, I'm still reeling over Shelley, the woman on Confessions who owned 65 cats! Sixty-five! And knew each one by name! You tell me that's not freaky-deaky!

Networking: NBC has halted production of its Friday night newcomer Outlaw after three weeks of saggy ratings. Why can't Jimmy Smits catch a post-NYPD Blue break in primetime? ... Has ABC lost its natural mind, announcing the arrival of Skating With the Stars for later this season? You may remember (but probably don't) that FOX tried a Skating With Celebrities series four years ago that bombed miserably. Why? Because celebrities can't skate, that's why! You think there are a lot of injuries on ABC's smash hit Dancing With the Stars? Wait until the first time a skate blade severs someone's artery. The first victims — uh, participants — are expected to be announced on the DWTS season finale Nov. 22.