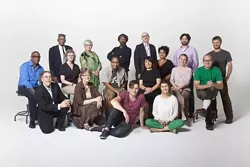 It's that time of year again. Kresge Arts in Detroit has announced this year's 18 Kresge Artist Fellowships for Detroit-area literary and visual artists. Each of the fellowships includes an unrestricted prize of $25,000, rewarding creative vision and commitment to excellence within a wide range of artistic disciplines.
The 2013 Kresge Artist Fellows are:
LITERARY ARTS FELLOWS

TERRY BLACKHAWK Terry Blackhawk is the author of several collections of poetry including The Light Between (Wayne State University Press, 2012) and Escape Artist (BkMk Press, 2003), which received the John Ciardi Prize for Poetry. Her most recent work is included in Michigan Quarterly Review, The Collagist, Verse Daily, Poetry Daily and Nimrod International Journal, which awarded her the Pablo Neruda Poetry Prize. In 1995, while teaching creative writing for Detroit Public Schools, she founded InsideOut Literary Arts Project, a nonprofit writers-in-schools program. InsideOut serves more than 5,000 children and youth in classrooms and communities throughout Detroit and has twice been honored by the White House. terrymblackhawk.com
ADRIENNE MAREE BROWN Adrienne Maree Brown is a writer, science fiction scholar, facilitator, artist and doula living in Detroit. She sees all of her work as healing trauma and creating possibilities. After years of social justice facilitation, including work as executive director of the Ruckus Society, national co-coordinator of the United States Social Forum, and facilitator of the Detroit Food Justice Task Force, she is convinced that speculative fiction is one way to envision futures that generate individual and community transformation. She studied at Columbia University in New York, and is now in teacher training for somatics. adriennemareebrown.net/blog
ARTHUR R. LABREW Arthur R. LaBrew, a music scholar, was born in Detroit and studied at the Oberlin Conservatory of Music, where he graduated in 1952 with a major in piano. He then studied under the noted Renaissance expert, Gustave Reese, at the Manhattan School of Music, where he graduated in 1955 with a major in musicology. He pursued further music study at the Mozarteum in Salzburg, Austria. Upon returning to Detroit, he became a teacher at the Detroit Settlement Music School and Wayne County Community College. He began a serious study of musicians of color throughout the world, including Elizabeth T. Greenfield and Francis Johnson. His current work in progress is titled International Dictionary of Musicians of Color: From Antiquity to the End of the 20th Century.
CARYLOREN Cary Loren's writing career began with self-published art zines in the 1970s. Loren has published one obscure novella in Dutch, poetry (as lyricist for Destroy All Monsters and Monster Island) and maintains a blog where he posts essays on the arts. His works in progress include a book-length study of the Detroit Artists Workshop and biographical text for a photography book on Leni Sinclair. His interests lie in regional histories, collage and the fragmentation and collision of culture and politics. Occasionally, Loren makes zines, videos, music and art. Together with his wife Colleen Kammer, Loren runs Book Beat, an independent bookstore in Oak Park, where he facilitates a discussion group on world literature. thebookbeat.com
DUNYA MIKHAIL Dunya Mikhail was born in Iraq and is the author of The War Works Hard (New Directions, 2005), which was named one of "Twenty-Five Books to Remember from 2005" by the New York Public Library. Her Diary of A Wave Outside the Sea (New Directions, 2009) won the 2010 Arab American Book Award. Mikhail has six poetry books in Arabic; the most recent one is The Iraqi Nights (Mesopotamia Press, Baghdad, 2013). In 2001, she was awarded the United Nations Human Rights Award for Freedom of Writing. She currently lives in Michigan and works as an Arabic lecturer at Oakland University. dunyamikhail.com
CHACE 'MIC WRITE' MORRIS Chace "Mic Write" Morris, a slam poet, is the 2010 Detroit Grand Slam Champion and the 2010 Rustbelt Individual Slam Champion, and is a former member of four Detroit National Slam Teams. Morris was featured in the Metro Times list of "Top 5 Poets in Detroit" and has opened for acts such as Talib Kweli, The Last Poets, and RZA of the Wu Tang Clan. Morris is a member of the acclaimed hip-hop collective Cold Men Young and is a writer-in-residence with InsideOut Literary Arts Project, teaching creative writing in local schools.
PEREGRINE WORKSHOP: ANDREA + GARY URBIEL GOLDNER Peregrine Workshop: Andrea + Gary Urbiel Goldner employ vocabulary and expertise from the disciplines of ecology, mathematics, kinesiology, visual art, engineering and landscape architecture. They tell the story of places using verbal and visual methods. Their recent work includes a U.S. Department of State Fulbright project, Community Appliances: Resilient Places in the City Landscape. Their work-in-progress includes a children's book in English, Moroccan Arabic, French, Arabic and Spanish about community ovens and other neighborhood spaces in North Africa. The book represents the first of many planned about community spaces around the world, meant to encourage young community members to consider how places are made and how they fit into them.
CAROLYN WALKER Carolyn Walker's creative nonfiction has appeared in literary journals such as The Southern Review, Crazyhorse, Hunger Mountain, The Writer's Chronicle, and Columbia: A Journal of Letters and Arts. Her essay "Christian Becomes a Blur" was nominated by the editors of Crazyhorse for a Pushcart Prize. She is also a contributing author to the anthology Gravity Pulls You In: Perspectives on Parenting a Child on the Autism Spectrum. She is a writing instructor for The Writer's Digest and Springfed Arts.
MICHAEL ZADOORIAN Michael Zadoorian is the author of two novels, The Leisure Seeker (William Morrow, 2009) and Second Hand (W.W. Norton, 2000), and a story collection, The Lost Tiki Places of Detroit (Wayne State University Press, 2009). He is a recipient of Columbia University's Anahid Literary Award, the Michigan Notable Book award, the Great Lakes Colleges Association New Writers Award and was finalist for the International IMPAC Dublin Literary Award. His has published works in The Literary Review, Beloit Fiction Journal, American Short Fiction, North American Review and Detroit Noir. Born and raised in Detroit, he now lives in Ferndale. michaelzadoorian.com
VISUAL ARTS FELLOWS
JON BRUMIT Jon Brumit is an artist working with sound and structured improvisation. He has participated in solo and collaborative exhibitions at the Whitney Museum of American Art, Novi Sad Contemporary Museum (Serbia), Radio Web MACBA (Barcelona), Museum of Contemporary Art (Los Angeles), 0047 (Berlin) and In- F (Tokyo). His work had been featured in print publications including Artforum, Penthouse, Punk Planet, The New York Times and Wired. His other media coverage includes 20/20, Tech Now and NPR's All Things Considered. Awards and support include the Creative Work Fund, CEC ArtsLink, San Jose Public Arts Commission, Oakland Arts Commission, Meet the Composer and the Graham Foundation for Advanced Studies in Fine Arts. jonbrumit.com
COCOBRUNER Coco Bruner earned a Master of Fine Arts from the School of the Art Institute of Chicago. Questioning what works in a drawing, she aims to create images that feel alive. She also works in other media including painting, text and video, often using humor to raise questions beneath the surface. She has exhibited her work in Michigan, Illinois and New York, and has received a grant from the Public Benefit Corporation of Detroit and an award from the Kreft Center for the Arts in Ann Arbor.
JASON E. CARTER Jason E. Carter's paintings are meditations on a new perception of light brought on by the digital age. Carter, a native of metropolitan Detroit, received a Bachelor of Fine Arts from the College for Creative Studies (1999), and a Master of Fine Arts in Painting from Cranbrook Academy of Art (2011). Carter was awarded the Joan Mitchell Foundation MFA Grant in 2011. His work is in many public collections including the Cranbrook Art Museum. jecart.com
KATE DAUGHDRILL Kate Daughdrill received a Bachelor of Arts in Studio Art and Political & Social Thought from the University of Virginia and a Master of Fine Arts from Cranbrook Academy of Art. Recent projects include Detroit SOUP, a monthly dinner that funds micro-grants for creative projects in Detroit, and the Edible Hut, a community space with a living, edible roof in a public park in Detroit's Osborn neighborhood. Her work has been exhibited at the Museum of Contemporary Art Detroit, Cranbrook Art Museum, the School of the Art Institute of Chicago, Fred Torres Collaborations and Kunstverein Wolfsburg. She lives and works on Burnside Farm on Detroit's east side.
OREN GOLDENBERG Oren Goldenberg is a video artist living and working in Detroit's Cass Corridor. He uses video to explore the dismantlement of the public sector, subvert the assumed and create catharsis. Goldenberg critiques society through dance, documentary and satire while creating new rituals for transformation. An honors graduate from the University of Michigan, he has made films and videos for 15 years. His work has been seen in festivals, theatres, museums, derelict street corners and the World Wide Web. casscorridorfilms.com detroitblankcity.com
MARIE T. HERMANN Marie T. Hermann is originally from Copenhagen, Denmark and now works in Detroit. She previously worked as a studio manager for the British artist Edmund de Waal. She studied at Royal College of Art in London and received a Master of Fine Arts in 2009. Her solo exhibitions include Stillness in the Glorious Wilderness at Matin Gallery in Los Angeles and The only thing I can think about is yellow at Egg in London, among many others. Her work is represented in the numerous collections including the Sèvres Museum in France and the Jingdezhen Ceramics Museum in China. She was awarded the Danish Arts Foundation grant in 2009 and the Annie and Otto Johs Detlef's Award for young, experimental ceramic artists in 2010. She is also curator and co-director of Sixpm Project Space and she is a faculty member at the College for Creative Studies. mariehermann.dk
CHARLIE O'GEEN Charlie O'Geen's work involves architectural investigations that respond directly to the conditions of a specific site and often utilize found objects as building materials. He received a Bachelor of Science in Architecture and a Master of Architecture from SUNY Buffalo and then went on to earn a second Master of Architecture degree from Cranbrook Academy of Art. O'Geen is the construction manager for Powerhouse Productions and currently teaches architecture at Lawrence Technological University. He lives in Detroit, where he works on full-scale architectural and building experiments. youtube.com/user/cjogeen
BRYANT TILLMAN Bryant Tillman has painted for 30 years. He was introduced to art by the late Cass Corridor painter Bradley Jones at Wayne County Community College. A field trip to the Impressionists wing at the Detroit Institute of Arts in 1983 forever changed this Detroiter's destiny. Starting with modest exhibits in artists' venues like the Detroit Artists Market, hipster spaces, and backyard soirees, Tillman developed a parallel interest in curatorial aspects of art presentation and soon became the "go-to" guy for guerrilla venues in the '80s and gallery management over the past decade.
CARL WILSON Carl Wilson's parents raised their son to love all things creative. This lifelong Detroiter graduated from Cass Technical High School and has had a diverse working life. He retired from an auto plant to become a full-time artist specializing in printmaking. Wilson cites surrealist painters and German expressionist printmakers as changing the way he looked at his subjects. He sees himself as a storyteller carving tales of family, friends and the neighborhoods of Detroit into blocks thus creating small, stark, black and white novels. His work has been shown in local, national and international exhibitions. carlwilsonart.com