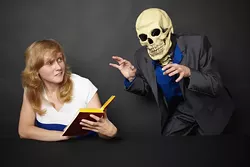 Horror cinema tends to get all the love, but that's understandable. With an assault on the senses both visual and auditory, chills are easily dispensed. You jump because the soundtrack gets cranked up just right, or the apparition enters slightly off frame. It's scary because you're being manipulated in that classic Hitchcockian way. Horror literature obviously can't employ those tools - which makes it so much scarier since it's happening inside your head.
Edgar Allen Poe, arguably the godfather of the horror genre (as well as the detective story), invented the template for horror literature back in the 19th century through mostly psychological excursions into dark recesses of the human condition.
Then, in the 1920s and '30s, Howard Phillips Lovecraft (better known as H.P. Lovecraft) repurposed that 19th century brand of horror to something more in line with the tastes of a blossoming 20th century.
Horror, be it in the form of the supernatural or the psychological, has been employed by such renowned literary writers as Henry James and William Faulkner, Virginia Woolf and Joyce Carol Oates.
And while more contemporary authors such as Charles Beaumont, Clayton Johnson, Ray Bradbury, William Peter Blatty (The Exorcist) and Robert Bloch (Psycho) shook up the establishment, it is that demented genius from Maine, Stephen King, who is the current reigning king of horror lit.
As Halloween approaches, it might be a good time to curl up with a hair-raising read. While this list of titles is hardly comprehensive, your horror collection is probably incomplete without at least one of these books on your shelf.
The Books of Blood by Clive Barker
Barker's tales were sexy, disgusting, otherworldly trips that were unlike anything written to that point. The mastermind behind Hellraiser (he wrote and directed the first film) crafted these graphically delicious stories while working as a playwright by day. Some of the book's stories were adapted into films and television pieces, including the 1986 cult film Rawhead Rex (screenplay by Barker) and 2008's The Midnight Meat Train. Mostly, The Books of Blood have endured, and became the template for what became known as splatterpunk (a subgenre of horror concerned with extreme tendencies). The Books of Blood represent one of the best examples of literary achievement in horror literature.
The Hunger and Other Stories
by Charles Beaumont
Although his life was tragically cut short at 38, Beaumont's work has endured, thanks to The Twilight Zone. Re-issued this year, The Hunger and Other Stories, originally published in 1957, isn't overtly supernatural in nature, but the characters are grotesques — to the extreme. It contains "Black Country," a story not just notable for its black characters and a jazz backdrop, but was the first piece of fiction published by Playboy magazine in 1954. Subsequent Beaumont re-issues are planned. This is the man behind Twilight Zone's creepiest episodes (including "Living Doll" and "The Howling Man"), so you owe it to yourself to check out the power of his prose.
30 Days of Night by Steve Niles and Ben Templesmith
Steve Niles took the tradition of the EC Horror comics line (popular during the '50s, the most famous of which was Tales from the Crypt) and gave it a new-millennium spin. First published in 2002, 30 Days of Night brought Templesmith's stark illustrations and Niles's tight plotting to the comic book world. In 2007, a film version hit theaters to mixed but mostly favorable reviews. However, it never took off into franchise territory. A year later, Twilight brought its sparkly vampires to the pop culture zeitgeist, and vampires became a little too respectable. Thankfully, Niles' vampires aren't even sexy. They rend things apart, and have no interest in atoning for previous sins or going back to humanity. Now that's horror!
The Best of H.P. Lovecraft
The Best of H.P. Lovecraft is perhaps the finest introduction to Lovecraft's influence upon the genre. It's got all the greatest hits, from "The Call of Cthulhu" to "The Shadow Over Innsmouth" to "The Rats in the Walls," and provides a great overview of Lovecraft's shorter works. Lovecraft, whose style was occasionally overblown and riddled with words such as "cyclopean" — and often describing horrors as "indescribable" — has influenced many artists in a variety of mediums. Lovecraft was a master of evoking dread and shaped the genre for generations to come.
Night Shift by Stephen King
Most best-of horror lists will include at least The Shining and Salem's Lot — perhaps even It. But one book usually gets left off the list probably because it's a collection of stories. Stephen King, roughly between 1974 and 1980, was the indisputable master of horror. And though he's gained respectability these days as an contemporary American writer of fiction, books like Night Shift solidified his standing as a master of terror. You'll find the original short story "Children of the Corn" in this collection.
The Sandman by Neil Gaiman
(with various artists)
Although one might categorize this as dark fantasy, Neil Gaiman's Sandman slipped enough into those darker recesses that The Sandman comic series (now in graphic novel form) qualifies as horror literature of a sort. Gaiman, who produced this summer's best literary work of dark fantasy, The Ocean at the End of the Lane, has won more awards than seems possible. Though he's done fantastic work outside comics, The Sandman is where it all started. The series follows the Dream King, Morpheus, and his dysfunctional family. It is an anthology series with an overarching storyline. Gaiman promised an eventual return to the comic book series (there have been a couple of Sandman-related books since it ended in 1996), but The Sandman: Overture #1 (kicking off a six-issue miniseries) finally delivers on the promise. It will be released on Oct. 30.
Cornelius Fortune is a contributor to the Metro Times. Send comments to [email protected]