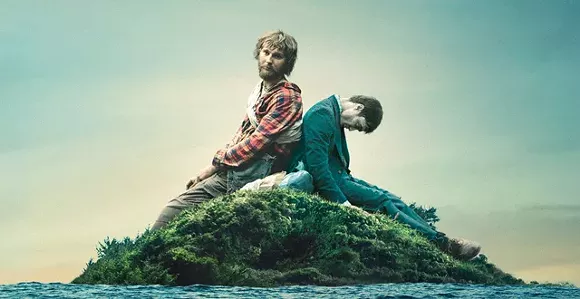 I had this debate with myself while my dog was shitting. It was about whether or not I choose to be lonely. Half of me said: "You have no patience and little interest in the mundane nature of others, so you avoid them and that's why you're lonely." I nodded, and replied with a long thoughtful argument about how we are all insanely similar, yet a myriad of factors hardwire us to walk alone on our paths instead of with each other.
The conversation, as thought-provoking as it was, would not have happened if it weren't for a farting corpse with a dick that subbed as a compass. That's right. A dead guy whose mouth could be a grappling hook-shooter and anus used as a propeller/fire-starter sent me into an existential whirlwind. But that's the beauty of
Swiss Army Man
.
A film by directing duo Daniels (Daniel Kwan and Daniel Scheinert),
Swiss Army Man
is the perfect movie at the perfect time. It is a simple story about Hank (Paul Dano) trapped on a deserted island and his journey home.
Seconds from ending it all, Hank spots a body wash ashore. Hopes are dashed as quickly as they raised when he realizes the body is just a dead guy in a business suit. At least the beached dude provides a belt to make the next part easier. But something stops Hank. So he pulls the body into a cave where he learns it has powerful albeit ridiculous abilities — the gas that has filled the rotting corpse (now known as Manny played by Daniel Radcliffe) has acted like a bellow that breathed life into it. The next hour-and-a-half is spent as the new friends bond, learn from one another and ask important questions.
Chief among the topics covered is the notion of normalcy. After Manny's gas problems are literally corked, his interest in life becomes insatiable. He knows he is dead, but he sees nothing wrong with it. To him, he is just a regular guy who loves a girl and doesn't get why farts are so taboo. His state is completely normal to him, but completely freakish to the uptight Hank. Hank can't even talk without thinking he's done something wrong. This dynamic runs through the entire film.
Swiss Army Man
is tyranny against the normal: an ode to flatulence, masturbation, and critical thinking. Dano and Radcliffe are amazing together. Their undeniable greatness is what gives the creativity a chance at lasting. Lessor actors would have reminded you that what you're seeing is more fantasy than
Jurassic Park
. They put together what is one of the best buddy flicks in recent memory.
However, none of it would have been possible without singular direction of the duo Daniels. Kwan and Scheinert have been making to most accessible surreal art available today. They honed their voice on things like Adult Swim's
Broomshakalaka
and their short
Interesting Ball
. Over the course of their meteoric career, you can clearly see these guys are going to be as poignantly absurd as possible. It works supremely well. There are hiccups in Swiss Army Man, their first feature-length, but the viewer is so lost in their universe that it doesn't matter.
And that's where I found myself, a few nights after watching Paul Dano poke Daniel Radcliffe's erect penis, pondering in my backyard. We all have a desire to fit in, but do we sacrifice our best parts in order to do so? And how many great memories did we skip because we were afraid of sticking out a little bit? So, if you are bored while your dog's dropping deuces, exercise your mind and let
Swiss Army Man
provide the tools to help.