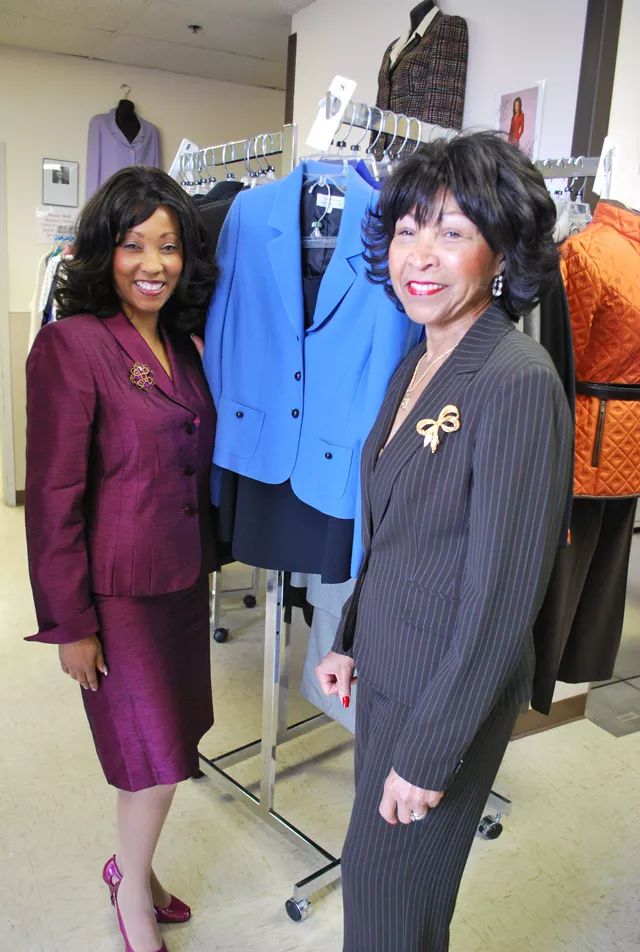 The teacher has her work cut out for her today.
Betty Henderson's students look as though they'd rather be somewhere else. One girl sits with her eyes closed. Another's cell phone rings, and she eagerly leaps up and leaves the room as she talks to the caller. Others giggle at not-so-funny things at the wrong time. Some have wild colors in their hair, or sport obscene tattoos, or wear dirty gym clothes.
They're in class at Jackets for Jobs, an eastside nonprofit that provides dressy clothing for needy job seekers who don't have a professional outfit to wear for an interview. But the price of getting that free outfit is sitting through this 90-minute lecture on proper job etiquette. Dress clothes will mean nothing if the applicant walks into an interview and begins swearing.
"They don't know how to fill out an application," says Karen Terry, a volunteer here, of the typical clients who come through. "They don't even know how to talk."
There are 16 women in class today, all but a few in their late teens or early 20s. Most are single mothers. Seven of them never graduated high school. Most haven't worked in at least a year or two. Some get fired a lot. A couple of them have never held any job at all.
The little rules of work life that are obvious to others are new to many here. Don't flirt with the interviewer or ask for his phone number, Henderson tells them. Don't lose your temper and start yelling at the interviewer. Don't light a cigarette in the interviewer's office. Don't bring your child to the interview.
"If you couldn't find a babysitter for the interview, what are you going to do when you get the job?" Henderson asks them. The 68-year-old former schoolteacher's tone is motherly but firm. "You've got to have your ducks in a row. I don't care if the kid is 10 or 2. Leave the child at home. Find a babysitter, someone that's responsible."
Woven into the etiquette instructions are segments on improving self-esteem. After years on welfare or without a job, after countless rejections and firings, the staff here find that many of these women have little or no self-confidence.
"A lot of the women, some like myself — homeless, unemployed, single mothers — you're going through these things that you have to go through daily, culminating in how you're feeling as a woman and your emotions," says Terry, 50. "See, people don't address those issues, and here they address those issues as well as give you clothes."
But Henderson faces an uphill battle. In many cases, years of bad habits, poor social skills and street behavior have to be undone, and it's hard to do that in an hour-and-a-half.
"I have students that literally fall asleep, and I know this class is not that boring because you're looking for work," Henderson lectures the students. "This is good stuff for you. You should have a page full of notes by now. You can't say, 'Well I didn't know I couldn't do that.' You need to know this."
The girl with the pink hair giggles.

Alison Vaughn was a model and flight attendant when 9/11 happened. Airline business dropped off significantly for a while, and she accepted her employer's offer to take a leave of absence.
She had just reunited with a stepsister who had fallen on hard times, was subsisting on assistance checks, and then died six months later of cancer. Seeing her sister trying to survive physically and financially made her want to do something to help women in similar circumstances.
"Every woman that walks through this door, I'm reminded of my sister," says Vaughn, 44. "I want to help them become a better person and get off welfare and be self-sufficient, 'cause some of them have kids and they're trying to make it, and they're struggling."
She started Jackets for Jobs 11 years ago in her apartment with a few outfits to give away, moved to space above a church as the donations started coming in, then found offices in a former hospital building at Connor and Shoemaker.
"I just saw a need in the community," Vaughn says. "It was kind of like a Catch-22. A person was going for an interview, they needed a suit, but they needed a job to get the suit." Once they get a job, they're entitled to two more free outfits.
She estimates that 10,000 people have come to her so far; about two-thirds have succeeded in getting a job, she says. Henderson, Vaughn's mother, joined her early on as the organization's career wardrobe director, as they call it. Most of their clients are women, though they've been expanding their program for men, many of whom are just-released ex-cons.
The Jackets for Jobs offices are laid out like a small department store. Women's business suits are neatly hung on department store racks bought at a Montgomery Ward going-out-of-business sale. Most clothes are new; some still have the tags hanging on them. Clothes and donations come from retailers in the area, from corporations, from individual donors who believe in her mission.
Vaughn's real task, though, is getting the women who come through here to believe it too.
"You feel frustrated because you're trying to get a person to step out of their comfort zone," she says. "And we tell them we know that you're used to wearing miniskirts and tight-fitting clothes, but there's a difference from date wear and daytime wear to interview wear, and so we try to explain the difference. You know, if you're going on a date you can have your cleavage hanging out, but when you're going for a job interview, that is not appropriate at all."

The class comes to an end, and the students leap up and swarm to the racks of new clothes. Henderson and Vaughn help each one match their outfits properly, pick out clothes that fit, get shoes that the women can walk in gracefully.
"A lot of women have never worn a suit before," Vaughn says. "A lot of them don't know how to match up an outfit, they don't know how to put the blouse, accessories and so forth together. A lot of the women that come through here, the shoes on their feet are the only shoes they own, so it's our job to show them how to put things together and look nice."
Angela James, 38, steps out of the dressing room wearing a crisp white shirt, dark black pants and shiny black high heels. She wants to be a nurse, went to school for it for a while, but dropped out when she got pregnant years ago. "Had little setbacks," she says. "But I'm going for success."
She has no dress clothes, not even new clothes of any kind, and now she's wearing an outfit she'd never have been able to afford on her own. The new look swells up her pride, and as she looks in the mirror she free-associates her feelings. "I feel very different," she says. "Important. More businesslike. More independent. I feel like I'm encouraged, you know? Strong. I know when I walk in there they're going to look at me differently. This is nice."
The women bustling around are thrilled with their free outfits, though the real gift, whether or not each realizes it, came an hour ago with the lessons on résumé-writing, interview etiquette and social skills. But their reaction is understandable because the new outfit is their chance not to be dismissed just for their appearance when they first walk in for a job interview somewhere. The rest is up to them. But at least now they can get into the door.
"We call it the Cinderella effect," Vaughn says. "We totally transform people, even their body language. Their head is held down, and when they leave their head is up, and they have a smile on their face."