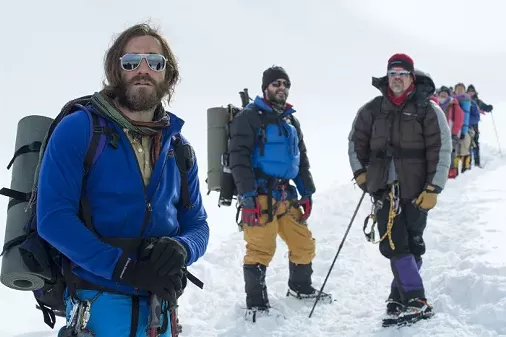 Everest / B+
Rated PG-13
121 Minutes
Let's face it: This is what 3-D IMAX theaters are for. Embracing the mantra of "go big, or go home," director Baltasar Kormákur and his cinematographer Salvatore Totino pull out all the stops to re-create the majesty and dizzying danger of climbing the world's highest peak. Part survival tale and part disaster movie, Everest is impeccably engineered to give audience members the stomach-twisting, vertigo-inducing experience of staring down yawning, catch-your-breath crevasses and teetering over narrow mountainside cliffs. The film seamlessly blends CG effects with operatic aerial camera work and live action shots to deliver images that are as ferociously authentic as they are gorgeously engrossing. If ever you wanted to know just how small and insignificant we are when facing the full force of the natural world (a course in humility we probably all could use from time to time), this is your film.
"Human beings aren't built to function at the cruising altitude of a 747," says Robert Hall (Jason Clarke), head of Adventure Consultants, the outdoor outfit that arranged the 1996 climb that took his life and the lives of seven others. It an apocryphal warning that sets the tone for everything the film's audience will experience for the next 100-plus minutes. Chronicled by survivor Jon Krakauer in his bestselling Into Thin Air, this behemoth of a movie adaptation gathers an impressive ensemble of actors to humanize an otherwise messy narrative that struggles to develop its sprawling cast of characters. These include Doug Hansen (John Hawkes) a postman who had made two past attempts to reach Everest's summit, Yasuko Namba (Naoko Mori) a passionate climber completing her seventh summit, loudmouth Texan Beck Weathers (Josh Brolin), journalist Krakauer (House Of Cards' Michael Kelly), Hall's pregnant wife (Keira Knightley), Weathers' wife, Peach (Robin Wright), climbing den mother Helen Wilton (Emily Watson), and rival climbing leader Scott Fischer (Jake Gyllenhaal) ... among a host of others.
This lengthy list illustrates the innate problem of bringing the ill-fated expedition to the screen. Despite the efforts of William Nicholson and Simon Beaufoy, who respectively wrote Gladiator and 127 Hours, there are some 20 or so characters to bring to life, while explaining the technicalities of extreme mountain climbing and delivering you-are-there mishaps that include avalanches, a rogue storm, and a harrowing helicopter rescue. The storytelling becomes even more complicated when so many of the players are covered by coats, goggles, oxygen masks and beards. I understand the value (dramatic and economic) of clinging to the true story pedigree, but this is probably one of those cases where the creative license of fictionalization would have given us a tighter, more emotionally involving story. As incredible as the thrills, despair, and tragedy are, they befall an otherwise generic stable of character types rather than people we truly understand.
There is little doubt that Everest conveys the enormous scale, white-knuckle intensity, and devastating power of nature. And it does this beautifully. Nevertheless, Kormákur doesnt dig deep enough, and he never finds the poetic heart of why these people feel the need to climb the world's highest, most dangerous peaks. It's that lack of inquiry that separates his magnificent spectacle from achieving classic status.