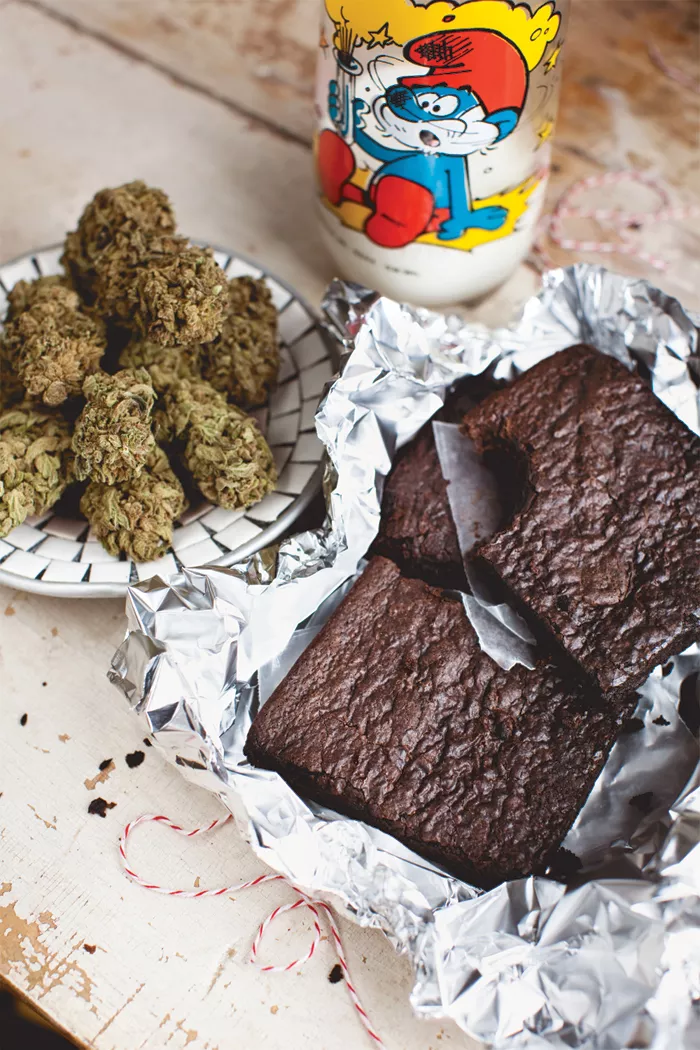 Elise McDonough pens High Times' Psychedelicatessen, a weekly column that offers recipes for cooking with cannabis. She'll be featured at the High Times Medical Cannabis Cup Sunday with a panel on medical edibles, discussing industry issues, recipes, safety tips, and more, and is prepping for the autumn release of Marijuana for Everybody, a sort of general handbook about pot.
McDonough says now is an exciting time for edibles, thanks to the advent of lab testing. "Back in the day, there used to be no way of knowing what somebody's parking lot goo ball contained in terms of milligrams of THC, so you just kind of took the chance," she says. "Now what you see with the lab testing is you can get medical marijuana edibles that will tell you this has 25 mg of THC in it, or this has 500 mg of THC."
McDonough says for most people, 10 to 25 mg of THC is plenty, and advises starting 10 mg and waiting two hours before eating any more, as ingesting marijuana takes a while to work its magic. "That's the most rookie mistake that people will make," she says. "They'll eat a cookie and then they'll wait half an hour or 45 minutes and they don't think anything's happening yet, so they eat another one."
McDonough says this is the best way to avoid having a "Maureeen Dowd" experience.
"What's important for people to realize is you should start with 10 to 25 mg of THC," she says. "For most average people, that's plenty."
McDonough says that while marijuana can be infused into a variety of food and drink — powdered drink mixes, dips, salsas, barbecue sauce, "anything you can imagine that has fat in it, you can put cannabis in," she says — brownies are the go-to. "It works well. The chocolate flavor can kind of cover up the pot flavor, and it's something that people think of as traditional," she says. With that said, McDonough shared with us her recipe for classic cannabis brownies from The Official High Times Cannabis Cookbook.

Classic Cannabis Brownies
Stones 16
1 cup all-purpose flour
1/4 cup unsweetened cocoa powder
1/2 teaspoon baking powder
1/2 teaspoon salt
3 tablespoons THC oil
5 ounces semisweet chocolate, chopped
11/2 tablespoons light corn syrup
1 cup firmly packed light brown sugar
1 tablespoon applesauce
3 egg whites
2 teaspoons vanilla

INSTRUCTIONS:
1. Preheat the oven to 350°F.
2. In a small bowl, mix together the flour, cocoa powder, baking powder, and salt, and set aside.
3. Pour the THC oil and the chopped chocolate into a double boiler over high heat. As the water boils in the lower pan, whisk the chocolate and oil until melted and smooth. Remove from heat, and whisk in the corn syrup, brown sugar, and applesauce. Stir in the egg whites and vanilla. Beat the mixture vigorously until smooth, then stir in the flour mixture until well-incorporated.
4. Grease a 9-by-13-inch baking pan. Pour the batter into the pan. Bake for 18 to 23 minutes, or until the center of the top is almost firm to the touch. Let cool. Enjoy!