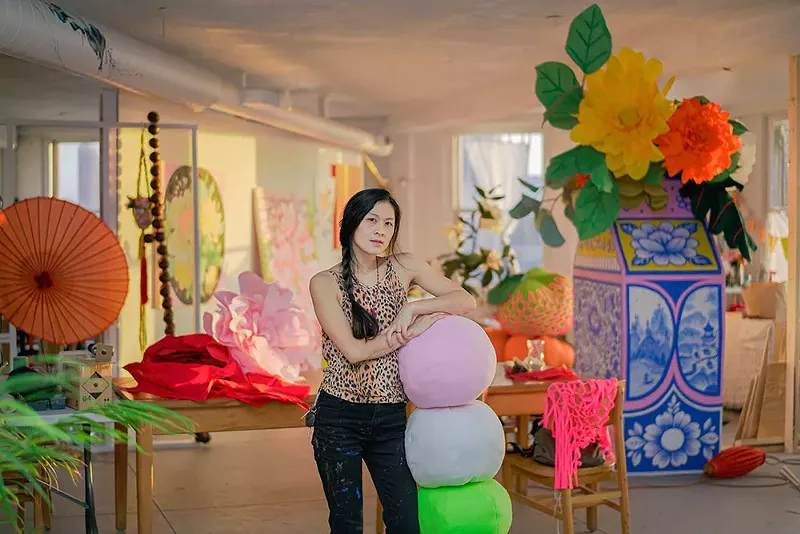 To be able to watch Louise Jones do her thing is a privilege and a joy. As her street art moniker, Ouizi, Jones has made a name for herself as a muralist best known for painting oversized, intricate flowers, and her shared Eastern Market studio space is filled with them. During a recent interview, Jones puts the finishing touches on her latest project, which sees her painting flowers in an imitation style of blue and white chinaware. Throughout our conversation, Jones paints nonchalantly, never missing a beat. It's like watching Bob Ross paint his "happy little trees."
Jones' setup here is bare bones, using unmixed blue and white house paint straight out of the can, and using the can's lid as a palette. She uses just two brushes — a flat brush and a round one. For this project, she did not sketch things out laboriously ahead of time — she really is just winging it.
"I like it when it looks not too deeply considered or overworked," she says. "That's not my personality."
Nevermind the fact that Jones is forced to paint in her studio's freight elevator — she had the oversize flower vase she is painting built by a carpenter, but it wound up being too big to fit through the elevator's doors.
"I pride myself at getting really good at improvising," Jones says with a laugh.
For her latest project, Jones is doing something a bit different. As this year's resident visual artist for Movement Music Festival, Jones is working on a sculptural installation to be featured in the sunken amphitheater adjacent to the festival's Pyramid Stage. It's different, but still on brand: Jones describes the concept as a "Honey I Shrunk The Kids-style" pair of giant flower vases, along with an offering plate featuring handmade pillows shaped like giant fruit and other treats — the idea being that the secluded area will make a great place for festival goers to chill out and, of course, take an obligatory selfie.
It's a bit out of her comfort zone, but Jones seems unfazed. While she is primarily a muralist and studied drawing and printmaking in college, she says she has also dabbled in fiber sculpture. "I started making fiber sculpture in college, so I've been doing it for a long time," she says. "But the mural thing took off more. Now I finally get to merge them, which is cool."
The flowers thing, Jones says, also dates back to college, where she studied floral textile designs. "It just kind of evolved into, 'I'm painting flowers all the time now,'" she says.
Jones says the flowers she paints are not portraits per se, but rather based on an amalgamation of traits she's observed while studying them. She also taps into the tradition of lifelike minimalism in Chinese painting. "When you look at Chinese watercolor, they do an orchid in like, 10 strokes," she says. "It's not anatomically correct, but they have all of the elements there."
A first-generation Chinese-American, Jones was born in Los Angeles and studied in Santa Cruz. She came to Detroit five years ago when some of her friends participated in the Treasure Nest, a project sponsored by Juxtapoz magazine that invited artists to turn abandoned houses into works of art. "I was just kind of following the winds," Jones says.
Suffice it to say, Jones wound up staying. "When I think about it, it boils down to just being in a smaller town than L.A.," she says. "It was the first time I ever actually lived in a place like that. So I just kind of fell in love instantly. I also made a lot of good friends. ... I felt very at home here."
Around that time, Jones quickly made a splash with her mural work, like those featured outside of Craft Work in Detroit's West Village or outside Farmer's Hand in Corktown. Jones still does murals, but says she is more selective in her projects these days. Other recent extracurriculars include a collaboration with Detroit Hustles Harder, which saw her artwork embroidered on a limited edition satin jacket.
Jones admits that yes, she sometimes gets sick of all the flowers. But she also says it's always fun. "I try to make it as chill as possible," she says. "I'm a very low-maintenance person. If I'm not having fun, then I'm doing it wrong."
Movement Music Festival is from Saturday, May 26-Monday, May 28; 1 Hart Plaza, Detroit; movement.us; General admission for one day is $85; General admission tickets for the weekend are $195; VIP weekend tickets are $320.
Stay on top of Detroit news and views. Sign up for our weekly issue newsletter delivered each Wednesday.