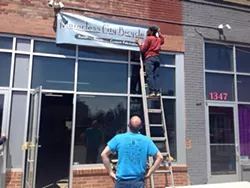 Just in time for spring and prime cycling season, Motorless City Bicycle Co. is opening in Eastern Market. The full service shop will carry brands like Cinneli, Fuji, Civia, SE, and Surly. They'll also do repairs and have an onsite fabrication facility that will allow the shop to build custom bikes.
The shop is owned by Chris Kiesling and Al Schlutow. Schlutow owned Homegrown Cycle, a mobile bike repair shop.
Motorless City Bicycles Co. opens the morning of Saturday, May 16. The shop's grand opening party will begin at 6 p.m. with music from The Deep, snacks from Russell Street Deli, and cocktails.
The shop will be located at 1343 E. Fisher St., Detroit