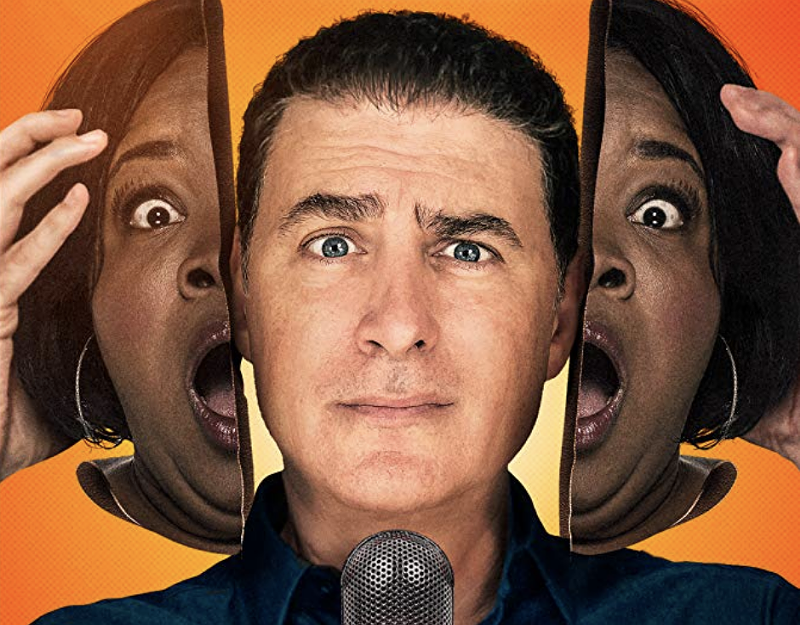 In the uncanny valley that is 2019, it's becoming harder and harder to discern fact from fiction, fiction from farce, and farce from racist trash.
So, when a trailer for a movie set in Detroit called
Loqueesha
started making the rounds, it was hard to know exactly what we were looking at. On one hand, a film about a white man pretending to be a Black woman to land a job at a radio station could be genius satire and social commentary if at the hands of someone like
Jordan Peele
. The plot also harkens to the 2018 dark comedy,
Sorry to Bother You
, where Lakeith Stanfield's character takes a telemarketing job and develops a "white voice" (voiced by David Cross), to climb the corporate ladder. Based on the trailer,
Loqueesha
appears to be a far cry from a racially progressive conversation and more like
Green Book
with blaccent.
I think the "Loqueesha" movie trailer is fake. I HOPE it's fake. But I think... it's fake? But maybe 3 years in Hellworld so who even knows anymore?

— Patton Oswalt (@pattonoswalt) May 11, 2019
Comedian Jeremey Saville (whose pinned tweet reads: "Every little bit of my life is a joy factory") landed three jobs as a white man: writer, director, and
Loqueesha
's protagonist, Joe. Described as an "astute and underachieving Detroit bartender," Joe finds himself in some hot water when his ex-wife informs him that it is his responsibility to get his hands on $13,000 to send their son to a private school. Naturally, he comes up with a harebrained, wacky money-making scheme: apply for the job he was rejected for that encourages "minorities to apply," but under the guise of pretending to be a Black woman after watching a Jerry Springer-type show called
Trash Talkin'
.
"If I was a Black woman I would be perfect."
It gets worse.
Joe, er, Loqueesha actually finds success as an over-the-top, advice-giving radio host and quickly becomes a national sensation. As one might expect, though, Joe's ruse comes to a head when people want to meet Loqueesha face-to-face. Oh boy!
Twitter had some choice words for Saville and Hollywood at large.
Okay.....
So fuck Jeremy Saville!
Fuck this Loqueesha movie.
Fuck the black people agreeing to be in this movie.
Fuck every single person involved.
And fuck Jeremy Saville!

— Ryan Thompson, EP COMING SOON (@BarelyFunnyRyan) May 11, 2019
So there's a movie coming out called #Loqueesha and it's about...

*checks notes*

...a white male radio DJ pretending to be a...

*checks notes again*

...black woman to get ratings and pay for his son to go to a prep school.

*reads again*

Wait this was made? In 2019? pic.twitter.com/7mBERNexFd

— TASK the Ol' Nerdy Bastard (@UpToTASK) May 10, 2019
I watched that horrible Loqueesha trailer and it made my blood boil. A grown white man is a failure in life and fantasizes that his goals are easier to accomplish as a Black Woman. A double minority? It's 2019 and they're still using us as scapegoats. Okay, Amy Fisher pic.twitter.com/hY2x0D20lq

— Ba-Donkin' Donutz 🍩☕️ (@Crysmay04) May 10, 2019
how in the who in the why in the actual fuck:https://t.co/0LQzz361dL

— Patton Oswalt (@pattonoswalt) May 10, 2019
R.I.P.
I watched that cursed Loqueesha trailer because I didn't understand what everyone was talking about. Now I'm going to die in 7 Days. Thanks guys.

— Destiny Jackson (@DestinyDreadful) May 11, 2019
2004 was the same year Wayne's brothers released
White Chicks
.
Loqueesha would've made $20 million at the box office if it came out in 2004

— Unretired Gambling Addict (@BLACKMESSlAH) May 13, 2019
A lot of folks drew comparisons to the 1986 blackface comedy,
Soul Man.

Loqueesha is the first entry in the soul man cinematic universe

— White Assad (@RacismFactory) May 12, 2019
And some made light of the whitewashing casting of 2017's
Ghost in the Shell.

Scarlett Johansson when she finds out they cast someone else as Loqueesha. pic.twitter.com/zHHixAHGo5

— dondarrion-mifflin, this is beric (@CrypticPinecone) May 10, 2019
Oh, and the film's IMDB trivia section is casting some well-deserved shade.
The IMDb trivia for #Loqueesha is fucking great. What a tone deaf turd of a movie. pic.twitter.com/x2IP9U14pH

— Rob Cleaver (@bobbycleav) May 10, 2019
Taking the film's tagline of "Sometimes you need to become someone else to find out who you really are" to heart is Saville himself, who is moonlighting as someone with Black friends, apparently.
...and Marlon appears to be annoyed.
I hate when people tag me in their bullshit. It's annoying as fuck.

— marlon wayans (@MarlonWayans) May 12, 2019
Watch the trailer at your own risk, and see if you can spot nods to Detroit and a fucked-up joke about suicide.

Stay on top of Detroit news and views. Sign up for our weekly issue newsletter delivered each Wednesday.