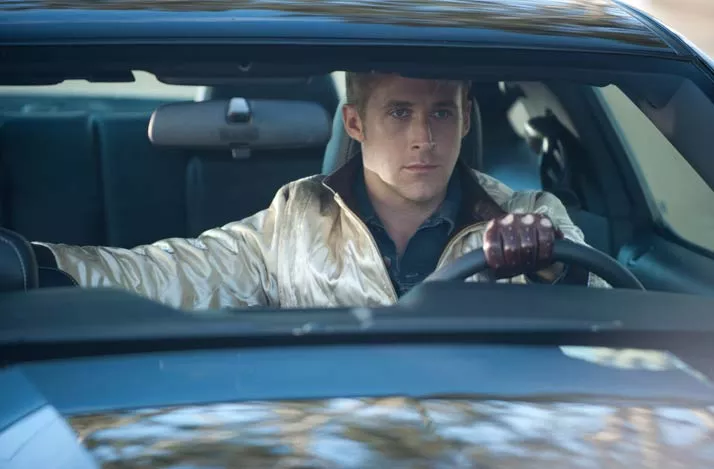 Drive
Directed by Nicolas Winding Refn. Written by Hossein Amini, based on the James Sallis novel. Starring Ryan Gosling, Carey Mulligan, Bryan Cranston, Christina Hendricks, Ron Perlman and Albert Brooks.   Running time: 100 minutes. Rated R.


B+
The action flick meets the art house in Nicolas Winding Refn's '80s inflected crime drama, a stylishly propulsive film that owes its chilly luster to Michael Mann, its rumbling tension to David Lynch, and its brooding existentialism to Jean-Pierre Melville. Reveling in sleek visuals and explosive sounds, it combines cool European technique with classic American narrative (guns, girls, cars) to produce an intense and exciting movie that delivers jolts of adrenaline and unsettling instances of violence.
Ryan Gosling stars as the solitary "driver-with-no-name," a Hollywood stunt driver who moonlights as a wheelman for criminals. Along with his repair garage boss (Bryan Cranston), he convinces a Jewish mobster (the terrifically sinister Albert Brooks) to invest in their plans to enter the stock car racing circuit. Enter his attractive neighbor, single-mom Irene (Carey Mulligan), whose quiet manner and charming young son win his affection. Their polite and promising courtship begins only to be derailed by the return of Irene's husband Standard, who's finished a stint in prison for armed robbery. Essentially a good guy, Standard is in crushing debt to a shadowy group of thugs who arranged for his protection while in jail. With interest growing by the day, he needs to find a lot of money fast, or else he and his family will suffer the consequences. Learning this, the Driver decides to pull off one last job to help the guy out ...and everything goes to hell. Soon, he and Irene are in the crosshairs of a vicious double cross, a brutal gangster (Ron Perlman), and his murderous cronies.
Steeped in noir and genre conventions, Drive gets pretty predictable after a dynamite first hour, as it downshifts its narrative to indulge in menacing atmosphere and glorious widescreen images. Refn loads his movie with self-consciously retro touches while ace cinematographer Newton Thomas Sigel fills the frame with hallucinatory visuals. From the sinuous and sensual to sudden hard-edged violence, Drive is as brilliantly calculated, as it is elegantly thrilling. The Danish filmmaker is a master of tension, juxtaposing moods and emotions to deliver visceral shocks. Whether it's the film's exquisitely executed opening — a gripping game of car cat and mouse, or an elevator scene that moves from tender romance to extreme violence within seconds, Refn deserved his Best Direction award at this year's Cannes. More importantly, the director is never gratuitous in his approach to brutality. Instead he uses the film's bloodshed as a way to increase the stakes.
Gosling's masculine, minimalist approach is a good fit to this approach, and plays like a modern-day version of Clint Eastwood's Man With No Name. He's composed and self-contained, a man of few words but decisively brutal to action. The uncomfortable silences Gosling injects into his dialogue — always holding a beat or two longer than expected — can be tortuous, made even more so by his dull, grinning affect. But if you watch the actor's eyes, that's where the performance resides. Wary, watchful, and wanting, he's an anti-hero who is more than just style and stare.
In love with Los Angeles' horizontal landscapes (much the way Michael Mann was in Heat or Collateral), Drive is as alluring as the pulsing synth beats that fuel its score. The movie delivers enough action, suspense, and revenge to satisfy the multiplex masses while introducing them to the bleak, unsettling stillness and deconstructive black humor of Refn's overseas instincts. Vroom, indeed.