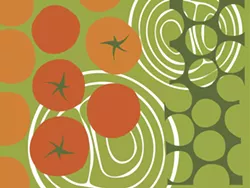 A former Kmart building located on Fort Street in the Downriver city of Southgate is currently undergoing extensive renovations to become a mammoth Kroger Marketplace. The city's current Kroger location, located on Eureka, will shutter and employees will be moved to the newer, bigger spot.
The store's offerings will also expand to include clothing and toys in addition to the groceries and other amenities already offered at the soon-to-be-shuttered location.
The grocery store is also hoping to add some local flavor to the often sterile shopping experience by commissioning a local artist to create a mural inside the new location.
Kroger has partnered with the Downriver Council for the Arts in an effort to recruit a local artist, who are seeking proposals from now until June 5 at 5 p.m. Artists are asked to send in a resume, bio, and some samples of their work to
[email protected]
DCA executive director Erin Suess says they're looking for art work that is "uplifting, encouraging community gathering" that will "engage and inspire the community" and showcase the "spirit of the neighborhood" while incorporating references to the area's history and culture.
Three entrants will be chosen to mock up the mural, for which they will receive a $300 stipend. The finalist will be awarded a $10,000 commission.
"We are honored and excited to be working with Kroger to give local artists the
opportunity to lend their talents to create an engaging mural that will capture the essence of our communities," Suess said in a press release. The objective of the project is to create a space that encourages community gathering and celebrates the spirit of the area in which we live."