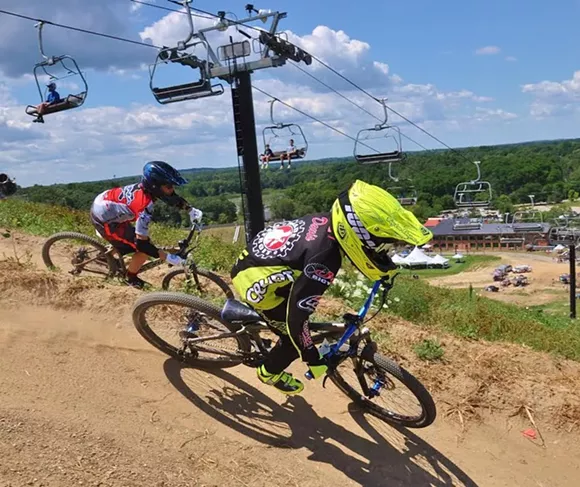 Attention sports fans with the need for speed: Improvements have been made to Mount Brighton's special course for downhill biking.
Downhill biking? Yes. Technically, it's "gravity-assisted time trial mountain biking" (to which our co-worker rejoinders: "What sport isn't gravity-assisted?"), but it's an actual sport, just about 40 years old, involving going down a slope on a mountain bike. (Generous suspension and large disc brakes recommended.)
And the Detroit area has plenty of ski slopes that remain powder-free for most of the year, so it's only natural that places like Mount Brighton would be happy to accommodate downhill racers during the warm months.
But the thrill-junkies who ski also often friends with the people who roll down the hill at well, when they're not one and the same. Mount Brighton's marketing director Tiffany Stewart says, "The ski and snowboard community in the Detroit area is highly interconnected with the mountain bike community. We heard from a number of our winter-summer crossover athletes that they were again interested in racing downhill mountain bikes over the summer."
That's resulted in the brand-new course, which is described as looking like a dirt bobsled run with banked corners, rollers and rider-friendly table top jumps. There are also gentler downhill biking courses without the jumps.
This summer, they'll have the Mount Brighton Mountain Bike Dual Slalom Town Series, which offers seven events, including a practice preview, starting June 8. It'll be a lively event, with music from DJs and bands, and prizes awarded each week.
For more information,
click here
.