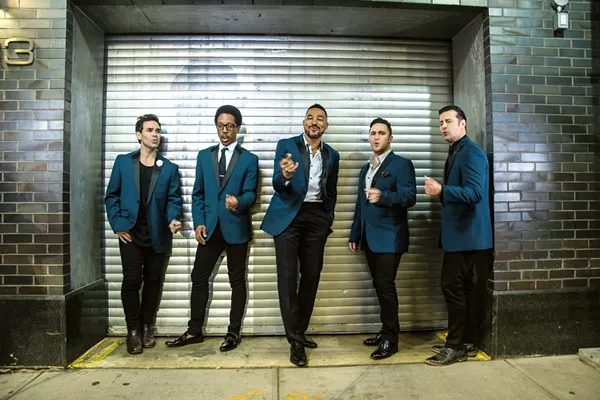 For as much as Motown loves its Motown, it's not like one can regularly walk into one of Detroit's incredible old theaters and witness a band pounding through the classics with an excellence that rivals the originals. But this weekend presents such an opportunity when the The Doo Wop Project performs at Orchestra Hall with the backing of the Detroit Symphony Orchestra.
The group is composed of five men who offer the "classic sound of five guys singing tight harmonies on a street corner." They build their show off of foundational tunes of groups like the Crests, Belmonts and Flamingos through their influences on the sounds of Smokey Robinson, The Temptations, and The Four Seasons. The show then winds through "DooWopified" versions of modern musicians like Michael Jackson, Jason Mraz, and Maroon 5.
Each of The Doo Wop Project's members came out of the Broadway world where they bonded over their love of the Doo Wop and Motown sounds. The group includes the original Smokey Robinson from
Motown: The Musical
, as well as cast members of
Jersey Boys
and Chazz Palminteri's
A Bronx Tale
.
It's also worth noting that Doo Wop was the first racially integrated genre of music, a fact that's highlighted by The Doo Wop Project's makeup.
Shows are at 10:45 a.m. and 8 p.m. on Friday; 8 p.m on Saturday; and 3 p.m. on Sunday. Tickets are $19 to to $115, and are
available here
.
Get our top picks for the best events in Detroit every Thursday morning. Sign up for our events newsletter.