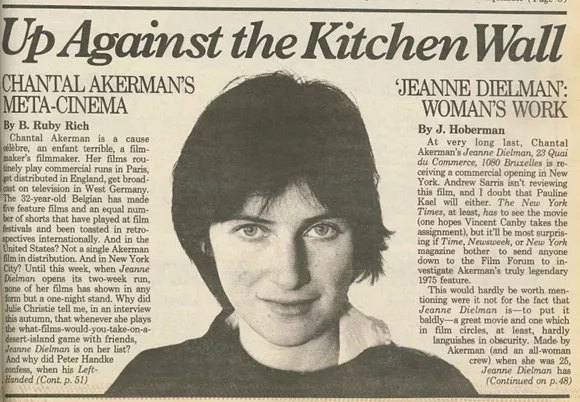 The Ann Arbor Film Festival is coming up again. This year marks the 54th iteration of the fest, and we're glad to see that, while other festivals have become meat markets where filmmakers court distributors, the AAFF is still in the business of exposing engaged audiences to a challenging selection of experimental, avant-garde, and other boundary-pushing work.
Now, we've already spoken with the festival's executive director, Leslie Raymond, and put together a list of picks for next week's issue. But there is one item of particular interest that falls before our upcoming issue hits the street, and that's a great documentary about one of this year's featured filmmakers: Chantal Akerman.
The Belgian filmmaker hit the film scene like a thunderclap in 1975 with the groundbreaking work Jeanne Dielman, 23 quai du Commerce, 1080 Bruxelles. Directed by Akerman and shot with an all-female crew, the film not only challenged the male dominance of the film industry, but the narrative structure of most filmmaking. In a decade that would offer rich, experimental film work (and a cadre of critics, such as J. Hoberman, willing to take it all seriously), Jeanne Dielman was a bombshell and a bellwether. Even today, watching the film can take the viewer used to typical Hollywood-style narrative from initial confusion, through irritation, to dramatic payoffs that force a sort of reconsideration of what a film is, and what a film can be.
Despite being so well-known as a trailblazer in her mid-20s, Akerman's later work would be comparatively obscure, even as she went on to make more than 30 more movies. Her final, released last year, was called No Home Movie, and consisted of interviews with her mother, a survivor of Auschwitz, before she died. A couple months after the film was first screened, Akerman committed suicide.
That's what has prompted the Ann Arbor Film Festival to feature several of her works this year. But a week before the festival begins, locals will have the chance to see Marianne Lambert's documentary about the life and work of Akerman. The doc, which was just completed last year, is called I Don't Belong Anywhere. Festival director Raymond calls it "a great sort of primer to her work." It will be screened at 6 p.m. at the Helmut Stern Auditorium, at the University of Michigan Museum of Art, 525 S. State St., Ann Arbor; 734-764-0395; free and open to the public.