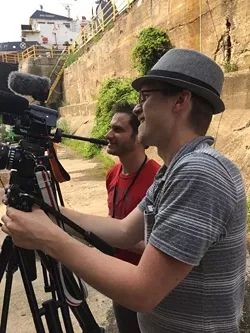 "The Boblo boats are set to sail again on the silver screen." That's what a press release that recently tickled our inbox said regarding a new initiative on the part of a group of local and New York-based filmmakers striving to "bring Boblo back" and tell the story of one of the region's most beloved lost attractions.
Boblo Boats: The Tale of Two Sisters
seeks to bring magic of the Boblo Island Amusement Park to life again, as well as raise awareness (and funds) to create a 2.0 version of the park.
"The filmmakers have launched
a crowdfunding campaign on Indiegogo.com
. The campaign allows supporters to help bring Boblo back in style with elaborate historical reenactments and fantastic visual effects. In exchange for support, the filmmakers have gone beyond copies of the film and swag by offering to take people back to Boblo Island and on board the SS Ste. Claire for tours," the press release said.
According to the crew's Indiegogo page, over 25 hours of footage has already been captured since filming began in June. An anticipated release date has not yet been announced.