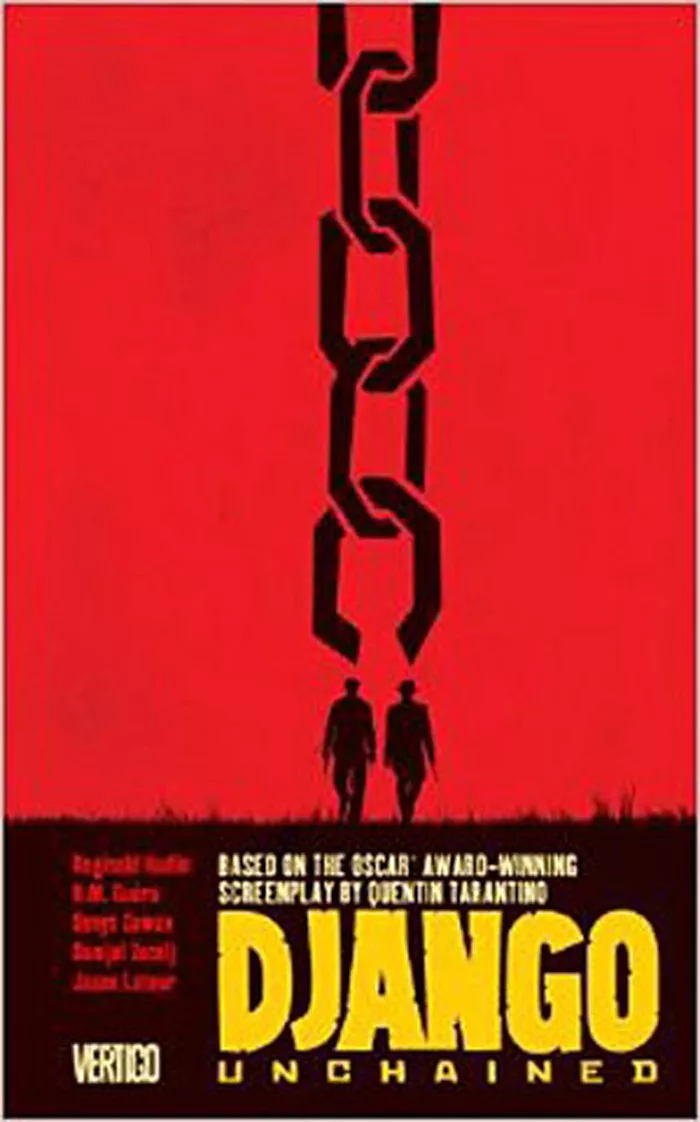 Django Unchained Original Screenplay
by Quentin Tarantino; adapted by Reginald Hudlin (featuring art by R.M. Guera, Jason Latour, Denys Cowan, Danijel Zezelj and John Floyd)
$24.99, Vertigo
Did we ever live in a world without on-demand video? Sure. It was called the 20th century. In those days, all you had was the theatrical experience and, perhaps (if you were lucky), the literary adaptation. Maybe it was in prose form or comics, but in its way, it kept the movie alive for you. Heck, sometimes there wasn't even a video release.
But times have changed.

You might say movie adaptations simply don't have the same urgency they used to, and when the title in question is a Quentin Tarantino film, in this case the Oscar award-winning Django Unchained, a comic book adaptation seems dreadfully redundant. But in the foreword, Tarantino name-checks some influential Western comics he grew up reading, such as Kid Colt Outlaw, Tomahawk, Kid Cassidy and others, setting the stage for why this collected edition exists. But there's not much new here.

Based on Tarantino's first draft, the graphic novel plays out pretty much the same as the film: Django, a slave in the deep South, is given an opportunity by a bounty hunter named Dr. King Schultz to avenge himself against the Brittle brothers, and rescue his wife, Broomhilda, from a plantation called Candyland. The graphic novel ends just like the movie. It's the in-between stuff that's actually fascinating. Tarantino's crackling screenwriting seems strange squeezed within the confines of word balloons (which, sadly, isn't nearly as fun as hearing it), but you'll find some snatches of dialogue you won't catch on the Blu-ray release, and if you're interested in a fuller realization of Broomhilda's backstory, you get it (you could say it's the graphic novel's centerpiece)
Sex Criminals
Matt Fraction (writer) and Chip Zdarsky (artist)
Cover price $3.50; digital price $2.99
Image Comics
Banned publications are always worth considering, especially if they're full of sex, time suspension, and a couple of lovebirds on the run from the law. If you're looking for something that stretches good taste to the farthest reaches of pretty much any galaxy, Sex Criminals is as filthy a title as you'll ever encounter. So filthy, in fact, that Apple has banned the serial comic from the Apple Store. Though you can get it directly at the Image Comics website, your local comics store, or download it digitally at Comixology, Apple's not directly selling Sex Criminals via its iOS platform.

Don't let the title fool you, Sex Criminals is a postmodern love story. Jon and Suzie are truly two of a kind — a really weird kind. The two have supernatural abilities (triggered during sexual intercourse in which both have the power to freeze time), and when they find each other, the fun really starts. (Particularly, when they plan their first bank robbery and the Sex Police show up.)

That said, there's something tender and personal about Sex Criminals. The story brings to mind all the embarrassing sexual escapades you might have experienced in high school, college and later. More importantly, it examines how these relationships, however brief, stay with us for the long haul, shaping us into the adults we end up becoming.
It's a groundbreaking work, an honest discussion about human sexuality packaged as a tale that's sci-fi, romance, coming of age. What more could you ask for?
•
Urban Farmer Seeds & Plants