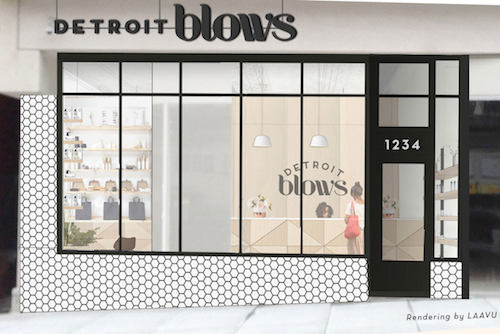 Remember a few months ago when we wrote about a proposed bar called "Hoffa's Hideout" that would feature the tagline "
A place to disappear
"? We followed the 24-hour turnaround, which involved the owner, Grand Rapids native Matt Buskard,
nixing plans to rename Casey's Bar after the union head
who vanished in 1975.
It turns out that Buskard and crew don't have a trademark on considering edgy humor in a business name.
This time around, it's a proposed blowout bar.
In case you aren't up to the minute on the latest in beauty treatments, "blowout bars" are a California-born phenomenon in which women generally sit at a bar and quaff complimentary champagne while they get a day-changing blowout.
Metro Detroit already has some of these places, but to date they've all had addresses in Birmingham or Bloomfield.
Enter a proposed new business called "Detroit Blows."
Our first thought was, "Really? You're going to open a business, presumably with a storefront, that essentially taunts the city for humorous effect?" We wanted to learn more. Surely this was a still-in-the-process-of-branding dry run, not a finalized business idea?
We wanted to confirm that there's still time to rethink the moniker. Unfortunately, a call to a number listed for the business was not returned immediately. A
web page
lists Nia Batts and Katherine Cockrel as executives with the company. An
Instagram page
for Detroit Blows describes Batts as a former Detroiter living in New York.
Now, as with "Hoffa's Hideout," this business name reminds us of one of those first few ideas tossed out at a brainstorming session: an idea that's better cast aside after generating a few laughs to loosen people up for that better idea that surely will come.
Why are other ideas better? Well, Detroiters can be notoriously brittle about jokes they deem made at their expense. You can't joke about Detroit like that and not expect some "blowback." You have to be as far away from Detroit as
Zucker-Abrams-Zucker
or have spent as much time in its underbelly as
Lester Bangs
.
We bring all this up not to be snarky, but because we think the DB team probably has good intentions, and we'd hate to see them hurt their own case.
To be clear as day: We welcome the investment a new salon represents. We have several people in our editorial offices who know how great a blowout can be. And we look forward to a day when Detroiters are self-assured enough about Detroit's greatness to slough off any jokes about Detroit. One day, yes, you will be able to name your business "Detroit Blows" and have residents in on the joke, ready to laugh at themselves.
But that day has not come yet.
As things stand, when you joke about the city's bad times, you do so at your own peril. And it's especially hard to defend the joke in this business' name, made at a time when a city is still figuratively on its knees.