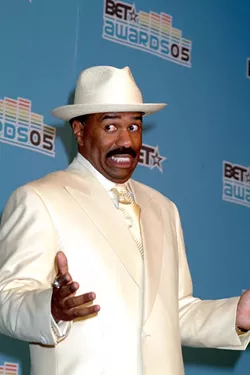 According to
MLive
, yes. Yes he did.
Even just logging on to Twitter and doing a quick search of Harvey's name will show you that many, many people are not happy with the TV personality.
Harvey was discussing the NBA Finals on his morning radio show when one caller told Harvey that Cleveland didn't "deserve jack." Harvey, a huge Cleveland Cavalier fan took offense to the caller's comments and took a joke way too far.
The caller is from Flint, so that prompted Harvey to allegedly say, "You from Flint?" That's why y'all ain't even got clean water. When was the last time you touched water and it didn't have lead in it?"
Harvey didn't stop there, then telling the listener to "Go have yourself a nice glass of brown water!"
Obviously, Twitter immediately clapped back at Harvey. That included Amariyanna Copeney, aka "Little Miss Flint," who once was a guest on Harvey's show.
Hey @IAmSteveHarvey remember me? Yea, the little Flint girl...please dont make water crisis jokes #FlintWaterCrisishttps://t.co/Jh9JcehaCg

— Little Miss Flint (@LittleMissFlint) June 13, 2017
Did Steve Harvey REALLY tell a caller to go drink dirty water because they made a comment against LeBron James? #LowBlow#FlintWaterCrisis

— On The Edge Show (@OnTheEdgeShow) June 14, 2017
The fact that Steve Harvey and his other people decided it was funny to joke about Flint water on their show is beyond ridiculous.

— potato 7/10 7/19 (@alanaauston_) June 14, 2017
You can listen to a portion of the radio interview below. MLive reached out to Harvey and a spokesperson, but they could not be reached for a comment.