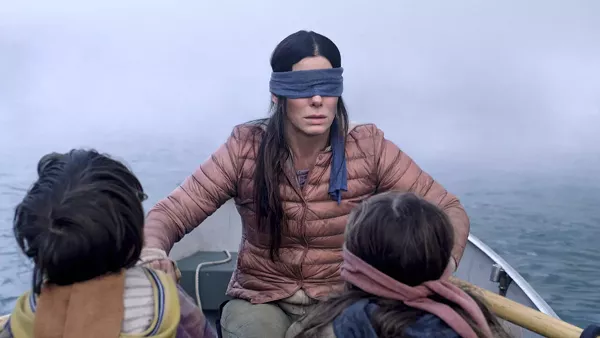 By now you've probably figured out that Bird Box is not some sort of monthly mail-order subscription service but rather one of the most talked about Netflix releases of the year — thanks, in part, to a recent flurry of memes.

Based on the novel by Michigan author Josh Malerman, the film version of Bird Box blindsided audiences with its apocalyptic story of an unseen monster that drives people mad. Though it premiered on Dec. 13, the Twittersphere seemed to grab ahold of the psychological thriller over the holiday weekend, helping propel awareness of the film by turning it into some of the most fire memes of the year.

Bird Box
meme storm hit Twitter, a video surfaced showing a user clicking through personal accounts of those who posted the now-widely circulated
Bird Box
memes, showing many of them had low tweet and follower counts. The implication of the video, which itself has since gone viral, is that Netflix was buying bots, or fake Twitter users, to promote its movie.
December 27, 2018
Naturally, the people of Twitter responded.
holy shit this is why it seems like everyone is talking about bird box except no one i have ever interacted with is talking about it

— misshapen pikachu (@whatcolorbird) December 28, 2018
ALSO IT SEEMS LIKE THEY HAVE PAID A LOT OF WEBSITES AND BLOGS TO POST ARTICLES ALONG THE LINES OF "THE BEST PART OF BIRD BOX ARE THE VIRAL MEMES!!!"

— ULTRA (@ULTRASLUT) December 28, 2018
Writer Max Read was also quick to chime in, following the publication of his timely article in
New York Magazine
this week titled,
"How Much of the Internet Is Fake? Turns Out, a Lot of It, Actually."


here's a good object lesson in the Inversion: a video going viral accusing a bunch of accounts tweeting birdbox memes of being 'fake' -- presumably as part of a netflix astroturfing campaign. most of the accounts seem to be 'real' though! https://t.co/mH4EWWc0X6

— Max Read (@max_read) December 28, 2018
In his story, Read cites a
New York Times
report published earlier this year about social media bots, in which it had been estimated that "less than 60 percent of web traffic is human." In other words, upwards of 40 percent of internet activity is likely to be the activity of bots posing as humans. Read refers to this moment of time as "the Inversion": thanks to the confusing landscape of social media, we have reached a point that we are no longer able to distinguish between who on social media is real and who is fake.
So are these
Bird Box
meme-posting Twitter users real or bots? In a follow-up tweet, Read points out that the accounts featured in the video have been active for months, actively post on their accounts, and appear to have zero Netflix affiliations.
"There are presumably real people behind them who 'authentically' enjoyed the movie
Bird Box
, hard as that might be to believe," Read tweets, going on to say that the "hastily edited video" circulated to tear down the authenticity of the memes could itself be "arguably 'faker' than any of the accounts it's calling out."
after the Inversion, we can't tell what's real or what's fake--or we tend toward false positives--so a hastily edited video is virally spread as the Truth behind the birdbox memes, even though it's (arguably) "faker" than any of the accounts it's calling out

— Max Read (@max_read) December 28, 2018
So they could be real people acting like fake bots. Or they could be fake bots acting like real people. It's impossible to tell. That's the Inversion for you.
While there is no evidence (yet) that Netflix purchased bots to promote its movie, one curious thing to note is the custom Twitter emoji that is paired with the
Bird Box
hashtag on Twitter. The emoji — a little yellow guy sporting a blindfold, much like Sandra Bullock's character in the film — cannot be found in your latest iOS update or special keyboard download. It's actually one of Twitter's "branded emojis": the feature,
offered for a hefty $1 million-plus price tag,
allows brands to purchase emojis to help their social media presence stand out. So it appears, at least, that Netflix was very interested in promoting
Bird Box
on Twitter.
The whole long and winding rabbit hole gets even more confusing and meta
when you consider that some have read the film's monster
is
a metaphor
for the evils of social media itself. Then consider that in the movie, birds serve as a sort of warning system to the monster, twittering when its unseen presence is near. Then consider the fact that the logo for the social media platform that Netflix may or may not have hijacked to promote
Bird Box
is a bird and... holy crap do we need a joint.
Another uncanny connection: The 1982 sci-fi film
Blade Runner
— in which Harrison Ford's Agent Rick Deckard hunts down Replicants, or synthetic humans that are so lifelike that they are almost impossible to tell apart from real humans — takes place in the year 2019.
So in a sense, this case of bots imitating humans is life imitating art. Now, we are all forced to be our own Blade Runner, and it is up to us to discern for ourselves what on the internet is real and what is fake.
Question everything.
Stay on top of Detroit news and views. Sign up for our weekly issue
newsletter
delivered each Wednesday.