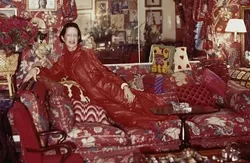 Diana Vreeland: The Eye Has to Travel | B
If you're looking for a better example of the cult of personality, it's hard to compete with 20th century fashion maven Diana Vreeland (1903-1989). From her 20-plus years as the fashion editor at Harper's Bazaar to nearly a decade as the managing editor of Vogue to a late-in-life gig as the consultant who transformed the Metropolitan Museum of Art's Costume Institute from a stodgy historical depository to a must-attend cultural happening, Vreeland was the queen of style, taste and, ultimately, artifice.
Documentary-makers Lisa Immordino Vreeland (her granddaughter-in-law), Bent-Jorgen Perlmutt and Frederic Tcheng have taken the fashion icon's public facade to heart and created a film that is brisk, vibrant, entertaining ... and more than a bit superficial. The film rarely delves into her personal life, is light on insight, and glosses over some of Vreeland's more unflattering traits — her sense of entitlement, incessant name-dropping and manipulative nature.
But for fans of the fashion industry, the film is a warm and rich celebration of Vreeland's drive, self-confidence and eccentric passions — as well as her undeniable impact on contemporary haute couture. Amassing a parade of engaging interviews (Richard Avedon, Lauren Bacall and Marissa Berenson among many), terrific archival footage, revealing magazine layouts and incisive movie clips, the documentary breezes by in the best possible way. A particularly savvy choice is the inclusion of actress Annette Miller, who helps re-create conversations Vreeland had with George Plimpton for an autobiography.
Diana Vreeland: The Eye Has to Travel may be more of an energetic and affectionate sketch than a revealing portrait of this oversized personality, but one has to wonder if the woman who celebrated glittering surfaces would have wanted it any other way.
Showing at the Birmingham 8, 211 S. Old Woodward Ave., Birmingham; 248-644-3456.