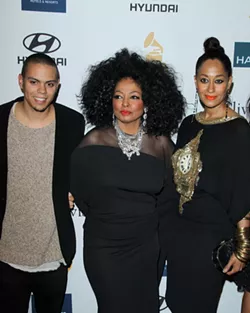 We all love to shower our children with praise, especially when they do something awesome like win a spelling bee, or make the Honor Roll, or, ya know, be the
first black woman
to receive an Emmy nomination for Outstanding Actress in a Comedy since Phylicia Rashad in 1986.
Since Tracee Ellis Ross deservedly got an Emmy nomination — her mother, Queen Diana Ross, did what any famous mother would do: She took out a full-page ad in
The Hollywood Reporter
to show just how proud she is of her very talented daughter.
Cue the "aww" track.
Ellis Ross tweeted a photo of the ad with a cute message about how sweet her mother is and we couldn't agree more. You go, Mama Ross!
OMG how cute r my mom @DianaRoss & family 4 taking an ad in @THR ☺️☺️ I ❤️U!! #blackish #Emmys #RossFamilyRocks pic.twitter.com/4Ihbvk8o1B

— Tracee Ellis Ross (@TraceeEllisRoss) August 17, 2016