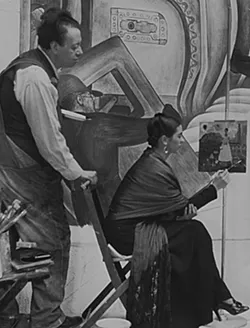 The Detroit Institute of Arts'
exceedingly popular
Diego Rivera and Frida Kahlo in Detroit
exhibition is nearing the end of its run, and the museum is plotting a few final auxiliary events.
On June 19, the museum will feature performances by Mexican folk music group Tlen-Huicani, which performs in the indigenous language of
Nahutal
and uses instruments unique to the Veracruz region, such as the
harpa joarocha
. The group has sets at 7 p.m. and 8:30 p.m.
Meanwhile, Detroit's Matrix Theatre Company is constructing "a giant walking puppet in the likeness of Diego Rivera," which they will debut onstage at the Detroit Film Theatre during the Concert of Colors on July 10. Patrons can help construct the puppet by attending workshops from noon to 4 p.m. on June 27, 28, 30 and from noon to 8 p.m. on July 2 and 3.
Lastly, also as part of the Concert of Colors, the DIA will stage
Art as a Weapon: Five Scenes of Frida and Diego in Detroit,
a multimedia performance that re-creates five scenes using actual dialogue originally spoken by Rivera and Kahlo. The scenes were written and produced by author Louis Aguilar.
For more information, check out
dia.org
. Read our cover story, "A guide to Diego Rivera and Frida Kahlo in the kitchen,"
here
.