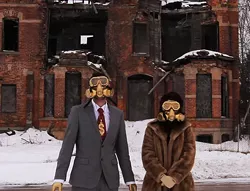 Detropia| B-
Symbolism is stock in trade for the film industry, but for those who live in and around Detroit, life isn't a metaphor, it's as real as the empty buildings that crumble along Cass Avenue or the shuttered auto plants that loom above East Grand Boulevard.
While directors Heidi Ewing and Rachel Grady (Jesus Camp, The Boys of Baraka) have crafted a gorgeous and often hypnotic collage of Detroit's atrophy, ruin and still-defiant hope, Detropia falls disappointingly short on insight or investigation.
Following a quintet of Detroiters — Crystal Starr (identified as a video blogger), retired teacher Tommy Stephens (owner of the Raven's Club), a crew of scrappers, UAW Local 22 President George McGregor, and a pair of young, white installation artists known as the Hygenic Dress League — and juxtaposing them with scenes from Detroit Opera House productions (a snippet from The Mikado's "I've Got a Little List" is particularly clever), the documentary attempts to weave together both a visual eulogy and poetic call to action.
At first glance, Detropia seems to be pursuing an interesting cross-section of perspectives, but it isn't long before it relies on the impassioned Stephens and the smiling yet defeated McGregor to supply the majority of its narrative, relegating the others to hastily sketched supporting players. In the end, it's an imbalanced and unsatisfying approach.
This obviously well-meaning documentary is much simpler and less probative than our struggling city deserves. Audiences are shown the statistical and emotional toll of the region's long slide into dysfunction but the doc never digs any deeper than a standard magazine article, offering despairingly few revelations, personalities or insights. This is particularly frustrating given the myriad and fascinating historical and social reasons (some well-known, others arcane) for the Motor City's decline.
Worse, the doc provides only cursory coverage of current efforts being made to revitalize the city. The slow gentrification of Midtown, Techtown's entrepreneurial endeavors, and the decades-long struggle for regional transit are completely ignored. Detropia's artist subjects, who mostly trade in now-clichéd Occupy imagery, make for a questionable representation of the city's possible future. Lured by cheap real estate and the myth of urban independence, this small but growing influx of creatives and hipsters could make for an interesting film on its own, but here Ewing and Grady offer neither positive nor negative evidence of their impact. They give even less attention to Detroit's much-ballyhooed urban farming movement, mostly providing a trio of locals the opportunity to offer up hilarious ridicule.
Some focus is given to the city's attempt to "right-size" its unevenly populated geography. We're shown how Boston, San Francisco and Manhattan could all fit within Detroit's 140 square miles — with room to spare — yet, instead of exploring the issue, the filmmakers offer up only brief comments from a beleaguered Mayor Bing and the inevitably hostile reaction from locals attending a meeting. You can catch the same footage on the local news.
Still, by taking us inside town halls and the union halls, blues clubs and hulking ruins, Ewing and Grady offer up some indelibly vivid moments. Watching a woman who needs to get up three hours before work implore city officials not to phase out her bus route is a perfect encapsulation of what Detroiters face every day. Hearing scrappers bitterly laugh that the metal they salvage from Detroit's formerly industrious ruins will be sent to China to be repurposed as products for the U.S. is a poignantly ironic statement about the unforgiving impact of globalization.
But it's Stevens' visit to the Detroit Auto Show that hits home the hardest. In search of hope for his community's future, the candid club owner expresses both his admiration for GM's battery-run Volt and concern over the Chinese electric car company BYD (Build Your Dreams), which offers a product that costs nearly half as much. When a GM flack casually dismisses his comparison to Honda's ascendancy in the '80s, you can't help but shake your head. It's deja vu all over again, and Stevens is right to worry.
While it's not fair to expect one film to tackle all the complexities and issues of Detroit's decline, Detropia, despite its many subjects, covers very little ground. Mostly, Grady and Ewing hold the city up as an impressionistic and aestheticized canary in the coalmine for America's post-economic empire. Their dreamlike visual approach makes for undeniably good cinema (especially by employing Dial.81's spectral score) but as a meaningful examination of why Detroit unraveled, what it's facing, and where it might go, it's woefully inadequate portraiture.
Playing at the Main Art, Royal Oak; Ren Cen 4, Detroit; and the Michigan Theater, Ann Arbor.