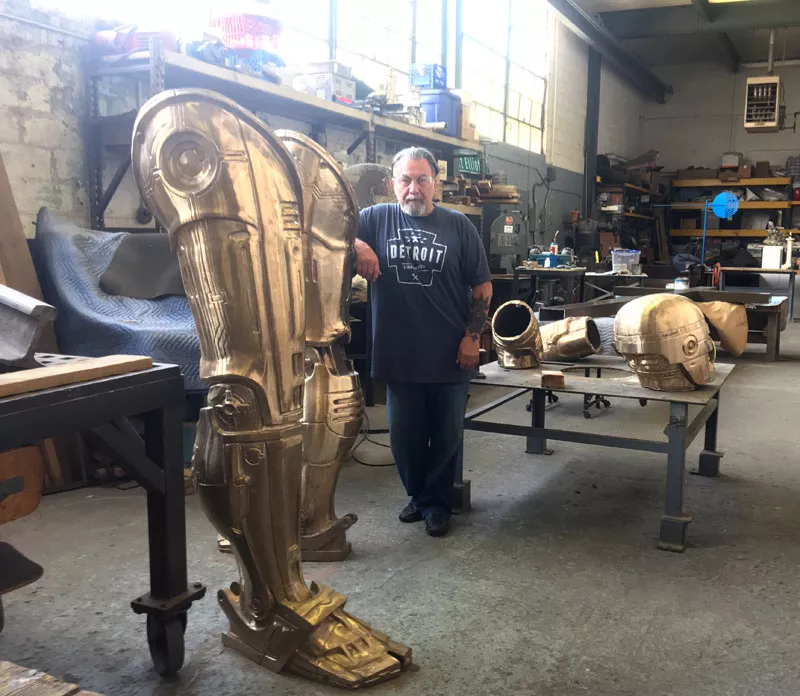 In an unmarked west side foundry, bronze cemetery busts, a life-sized crucifix from the top of a Michigan church, and plump fountain cherubs are spread across tables in various stages of repair by the Venus Bronze Works Inc. staff.
The company's name should ring a bell as part of the team creating Detroit's long-awaited Robocop statue. Though company president Giorgio Gikas never went to school to learn his craft, Detroit's bronze restoration company is one of only a handful of businesses in the Midwest accredited to conserve bronze art with the American Institute of Conservation.
That makes Venus Bronze Works an appropriate place to cast Detroit's Kickstarter-funded statue. The foundry and conservation house has been in possession of the molds for the '80s pop culture relic since 2014 (or "for like three-fucking-something years," in the words of Gikas) and finally cast the bronze pieces in February of this year.
Now, the dismembered body of the 10-foot hero lays in pieces in the corner of the busy foundry.
Detroit's homage to the crime-eradicating cyborg has fallen in and out of the limelight since 2011, when a tweet spurred 2,718 backers to fund an initiative to erect the statue.
"They were young guys who wanted to get involved. They put in a lot of hard work and collected money from all over the world to come up with the funds," says Gikas. "So I thought maybe I can help them out a little bit and the next thing I know I was getting more involved."
However, more involvement came with added responsibilities. Robocop grew from 7 feet to 10.5 feet during the six years of planning, without any additional funding. Last year, Gikas was diagnosed with cancer, delaying the project even further.
"The biggest challenge was just trying to do something while trying to take care of your business and everything else," says Gikas.
Members of British and French media have toured Gikas' shop and attempted to report on the statue that has skated over deadlines and missed its own unveilings. "But I had to kick them out of there, they were being very disrespectful about Detroit," Gikas says.
He calls himself a "313 kind of guy" and attributes the city with his business success. "The city of Detroit gave me the chance to become something," Gikas says. "Downtown, in the ghetto, I don't care, I love it."
Gikas says he learned to restore and fabricate bronze sculptures from his uncle in Greece before he immigrated to the United States in the 1970s. He opened Venus Bronze Works in 1984 when he was just 26 years old.
"At one point when Mayor Young and Mayor Archer were in office we had a contract to restore all the sculptures in Detroit every year," Gikas says. But when Kwame took office and Detroit spiraled toward bankruptcy, Gikas' contract was terminated. "The only thing that has been really kept up and maintained is the Spirit of Detroit, which we restore and maintain every year," he says.
Nevertheless, Gikas has stayed put in his Mt. Elliott shop while the neighborhood community around him began to disintegrate.
"A lot of artists that stuck around and are trying to do their thing and work regardless of when the economy was bad — they have the talent to go to New York, go to Chicago, go wherever they wanted, but they stuck around," he says.
That doesn't always mean restoring the sculptures in Detroit itself. During the busy spring and summer months, Gikas and the Venus Bronze Works staff travel to different cities, like Madison, Wisc., where Gikas spent six months on top of the more than 200-foot state capitol dome to restore the 15-foot "Wisconsin" statue from the inside. They also spent six months in Indianapolis restoring the capitol building's dome.
Back in Detroit, Robocop is still in pieces in the corner of the shop. Gikas says he and his team are committed to finishing the project this summer after six years of anticipation, but that deadline requires cooperation and coordination with the city and several artists.
Gikas admits he has never been the kind of businessman to self-promote or advertise but says he hopes the statue will bring him more attention, as well as the city contract to restore Detroit's neglected bronze statues. "It is our history and they are valuable ties for our past, our present, our future," he says. "It's part of our culture."
Isabella Hinojosa is an editorial intern at Metro Times and a graduate of Wayne State University's journalism program.