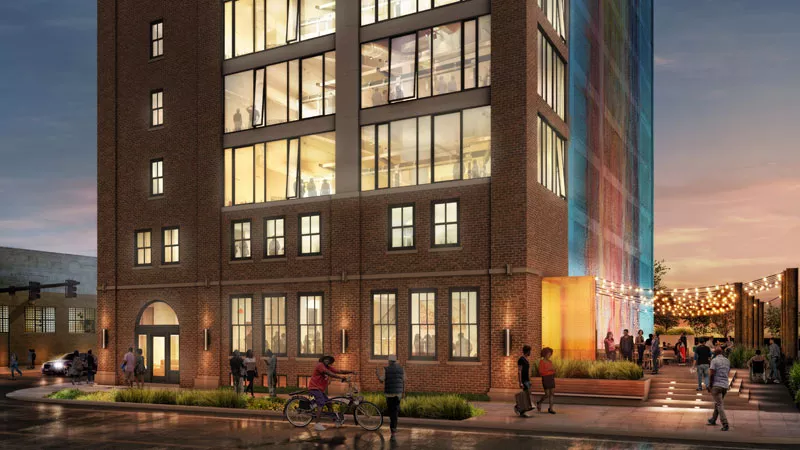 A polarizing rainbow mural in Detroit's Milwaukee Junction neighborhood will be part of the new plans for its building, developers confirmed Tuesday.
Developer group the Platform released details about
Chroma
, a new co-working space that is underway at the building at 2937 E. Grand Blvd. According to the Platform's PR firm Van Dyke Horn, construction began on Tuesday. When completed, the nine-story, 75,000-square-foot building will house offices, a co-working space, and a food hall.
It will also include an intact "Illuminated Mural," the 125-foot multicolor painting on the side of the building created by artist Katie Craig a decade ago.
The mural — created by dumping more than 100 gallons of paint down the side of the building, along with using fire extinguishers filled with paint — was instantly polarizing. At least one neighbor was not a fan. "It doesn't have any formation,"
one man told Metro Times
in 2010. "It's just paint slid down the side of a building."
Still, it has inarguably become one of the most identifiable murals in the city, adding a splash of color to the skyline near the North End and the second campus of Craig's alma mater, the College for Creative Studies. Once the building was put up for sale, Craig
filed a lawsuit
in the U.S. District Court in Detroit in 2016 against the building's previous owner, Princeton Enterprises, citing the Visual Artists Rights Act — a 1990 law that expanded federal copyright to protect artwork of "recognized stature." In 2017, a settlement was reached when the building was sold to the Platform,
who promised to keep the mural
.
Chroma's 14,000-square-foot food hall will be run by Grandview Public Market from West Palm Beach, Fla., featuring 14 chef-driven concepts including a full bar. It will join Detroit's
three current food halls
, Detroit Shipping Co., Monroe Market, and Fort Street Galley. Its coworking space will be run by operated by Pittsburgh-based Beauty Shoppe.
Van Dyke Horn says the project will create 74 full-time employees, and that the $16 million renovation project should be completed by the end of the year.
Stay on top of Detroit news and views. Sign up for our weekly issue newsletter delivered each Wednesday.