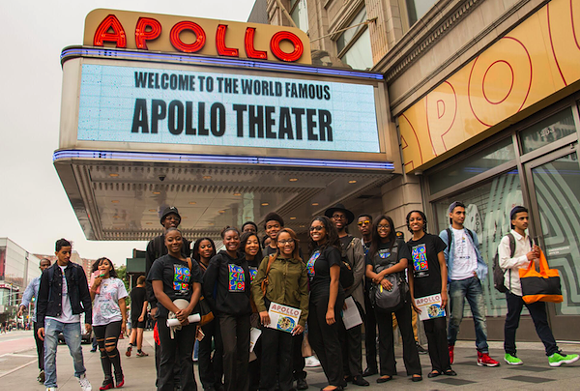 The Mosaic Youth Theatre of Detroit is the very definition of an internationally acclaimed ensemble. The troupe of actors and singers has opened for legends like Al Green, Aretha Franklin, and the Temptations. They've toured Africa, performed at the White House, and won national awards. They've done everything a hometown group of entertainers can do short of playing the Apollo and Carnegie Hall.
Until this week, that is. That's right, tonight, the group of young artists, 14 singers and 14 actors, are in New York for a weeklong trip that has them performing tonight as the special feature act in the Apollo's famous talent show and Thursday night at Carnegie Hall.
It's all part of a seven-day trip that will treat the kids to a bit of big-city sightseeing, such Broadway productions such as "She Loves Me" and "Shuffle Along," and Shakespeare in the Park.
Mosaic founder and artistic director Rick Sperling is obviously proud. He tells us, "For Mosaic's young artists to work with legendary venues like the Apollo Theater and Carnegie Hall will be an experience they will never forget."
Sperling also notes that one of Mosaic's alums, Angela Birchett, is making her Broadway debut this month in
The Color Purple
. All the more reason for Sperling and company to celebrate their role as "ambassadors for Detroit in the arts capital of the world."