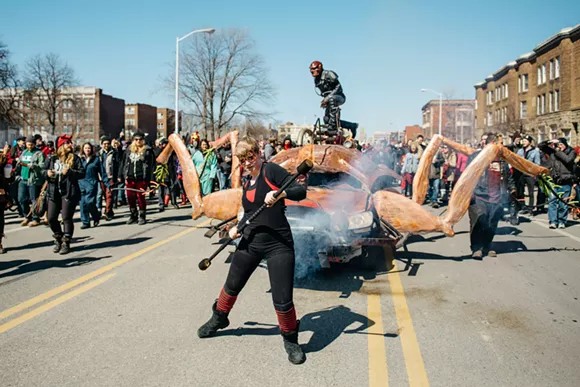 March 26 is the Sunday after the vernal equinox, which can only mean one thing in Detroit: the return of the annual
Marche du Nain Rouge parade
. The festival, now in its eighth year, starts at noon on the corner of Cass Avenue and Canfield Street.
According to a press release, this year's event will feature Mardi Gras-style "Krewes du Rouge" celebrating neighborhood pride, bike groups, wire cars from the
Wire Auto Workers Association of Detroit
, a costume contest, and more. An after party at the Masonic Temple will have DJs, food, and drink.
As in past years, revelers will banish the Nain Rouge (the "Red Dwarf"), a
mythical figure from Detroit folklore
. The parade has quickly grown to become a favorite Detroit tradition: organizers say more than 6,000 people attended last year's parade (just 300 attended the first parade in 2010).
Here's the version of history presented in the press release:
In 1701, legendary founder of Detroit Antoine de la Mothe Cadillac met a fortune-teller, who warned him to beware of the Nain Rouge, the "Red Dwarf" who appeared to Cadillac in a dream. She warned Cadillac that the the little red imp is the embodiment of his ambition, anger, pride, envy — everything that held him back. The Nain Rouge, she told him, is the harbinger of doom. However, when Cadillac first saw the fiend in person, the Nain taunted him mercilessly and Cadillac chased the Nain away with a stick.

Unfortunately, the fortune turned out to be true and Cadillac died penniless after he left Detroit for France. The city he founded, however, fared better, endured and prospered (mostly), against the fiendish efforts of the Nain Rouge.

For 300 years, Detroiters memorialized Cadillac's actions and willingness to persevere and hope for better things, combined with the determination to rise from the ashes. At Detroit's worst moments, the Nain has been there, cackling or taunting the city's residents. And so every year, Detroiters celebrate liberation from the Nain, a new beginning, and whatever is good and working in the city in a spring festival for the good and betterment of the city of Detroit.
Of course, the real history of the legend of the Nain Rouge is a bit more complicated than that. Revisit our 2016 cover story
here
.