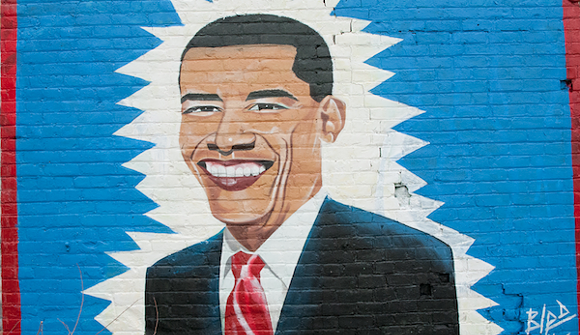 Want to see more of the folk art pieces Vergara has found in Detroit about Obama? Click here to see our 14-picture slideshow of it.

Every so often, we get a call from Camilo Jose Vergara, the New York-based photojournalist and MacArthur genius grant winner who has spent 40 years systematically photographing America's inner cities. His photographs are a record of the disinvestment and depopulation of the 1970s and 1980s, and the accelerating gentrification in the years since.
But Vergara seems to have a thing for underdogs. For instance, Detroit is near and dear to his heart. He comes out to our fair city about twice a year, and he even has a ninth book coming out this August called
Detroit Is No Dry Bones: The Eternal City of the Industrial Age
.
All of this helps explain why, more than other photographers, Vergara is especially alert to changes in the urban landscape. And one thing that's fascinated him are depictions of Barack Obama in vernacular art. Almost since the president won the presidential election in 2008, the commercial artists who paint ads on the coin laundries, tire salons, and storefront churches of inner-city America have included imagery of Obama.
Writing for
Slate
about the phenomenon four years ago, Vergara noted:
… Murals of his likeness have been appearing on the walls of fast food restaurants, barbershops, storefront churches, and other inner-city businesses across the U.S. The president is frequently pictured alongside Dr. Martin Luther King Jr. A South Los Angeles resident explained this choice to me: "Rosa Parks sat so Martin Luther King could walk. Martin Luther King walked so Obama could run. Obama ran so we can all fly."
In fact, Vergara has sent along all the Obama-related imagery he's shot in Detroit, from simple text scrawled on a fence to the Obama Gas Station. (Apparently, he missed
Hamtramck's Obama-themed ice cream truck
.)
We bring it all up today because
Vergara has a piece published by The Nation today
that focuses on the phenomenon. It's just another part of a lifelong push by Vergara to have people take vernacular art seriously, something we at
Metro Times
have cheered on over the years. When his book comes out this summer, perhaps more people will take a second, closer look at the wealth of native folk art we have all over town. And Vergara deserves thanks for recording them and offering a serious critical appraisal.
For more work by Camilo Jose Vergara, see
camilojosevergara.com
.