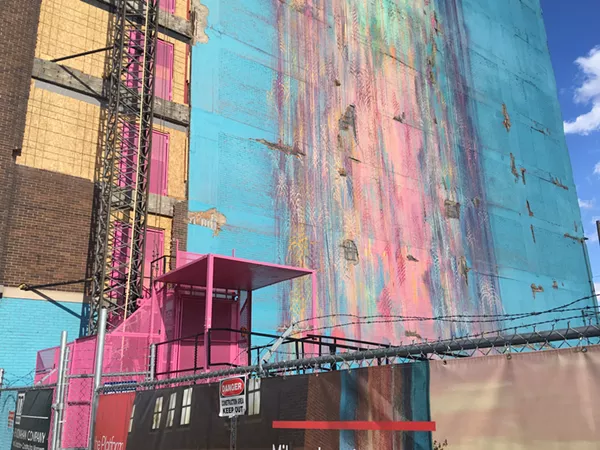 Following a legal battle to preserve Detroit's "Illuminated Mural," the polarizing work of art has been damaged during construction work — but a project spokesman says the crew is working with the artist to repair it.
Dan Austin of PR firm Van Dyke Horn says parts of the mural — a 125-foot splotch of rainbow painted by artist Katie Craig on the Albert Kahn-designed building at 2937 E. Grand Blvd. — were removed while the crew was doing structural repair for the forthcoming Chroma
co-working space and food hall
.
"That wall had structural issues," Austin says. "If they weren't addressed that would have caused problems."
A Tuesday evening drive-by revealed chunks of bricks had crumbled along the wall in a grid pattern.
Austin says Craig is aware of the damage and has agreed to work with the crew to restore the mural once the repairs are complete.
"The mural's not going anywhere," he says. "There's no cause for concern."
Craig
filed a lawsuit
to protect her mural in 2016, after developer Princeton Enterprises acquired the building. She cited the Visual Artists Rights Act, a 1990 law that expanded federal copyright to protect artwork of "recognized stature." The "bleeding rainbow" mural had quickly drawn both fans and critics. Some neighbors told
Metro Times
in 2010 that
they didn't like the formless painting
, while the
Detroit Free Press
called it
"maybe Detroit's most drop-dead gorgeous mural."
In 2017, a settlement was reached after the building was sold to developer group the Platform, which
pledged to keep the mural
, incorporating it as part of the architectural renderings for the Chroma project.
The project is expected to be completed by the end of the year.
Stay on top of Detroit news and views. Sign up for our weekly issue newsletter delivered each Wednesday.