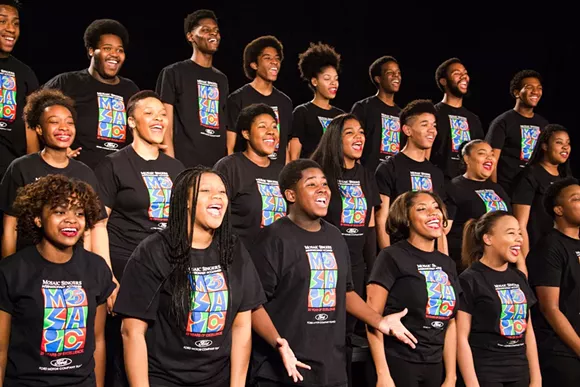 As milestone birthdays go, this is one Rick Sperling can't possibly forget.
"I turned 50 on the road with 30 teenagers," says Sperling, the founder, president, and artistic director of the internationally acclaimed Mosaic Youth Theatre of Detroit. "It was an interesting experience.
"Then one of them turned to me and said, 'Wow. You've been in Mosaic half your life.' Yeah, I guess so. I really can't deny it! In some ways it feels like it's been forever, and in other ways it seems like it was just yesterday."
Either way, the math is simple: Mosaic, the world-class theatrical and musical training ground for Detroit-area young people ages 11-18, born from an outreach experiment at the long-departed Attic Theatre, turns 25 in 2017: The same year its creator hits the Big 5-0. Call it artistic symmetry.
Today, Mosaic motivates more than 500 kids from 50 schools throughout the area, appearing on stages from Southfield to Singapore. The children of some of its earliest alums are now in the company. And beyond an ambitious schedule of student-driven performances to mark its silver anniversary, beginning with the production Coming Up Taller: Mosaic Singers in Concert this Friday through Sunday at the Redford Theatre, the organization will be hailed this year with impressive quarter-century tributes from coast to coast.
First, however, homage was paid to the place where Sperling — and, by extension, Mosaic — began. On March 4 the Ann Arbor native hosted a celebration at the Arthur Miller Theatre on the University of Michigan's campus. The evening included "Mosaic Trailblazer Awards" to Ann Arborites who made significant contributions to the troupe's history.
"We honored eight people, including my parents [Doris and Larry]," Sperling says with a smile. "They were our first funders. It was about time I honored them."
By far, however, the splashiest Mosaic salute will take place April 1 in Los Angeles at a pink palace called "Willis Wonderland." Detroit native Allee Willis, the Grammy-, Emmy-, and Tony Award-winning songwriter (Earth Wind & Fire's "September," the Friends TV theme) and notorious LA party hostess, is tossing a fundraising bash at her Valley Village home, the original MGM "Party House" of the 1930s. Her host committee includes legendary Motown songwriter Lamont Dozier and Kennedy Center-honored comedian Lily Tomlin, and a who's who of other transplanted Detroiters (ex-Supreme Mary Wilson, Don Was, and original Miracle Claudette Robinson, to name a few) have RSVP'd.
Willis says she was unfamiliar with Mosaic until she began work on "The D," her ambitious recording and micro-documentary project devoted to her hometown. Several Mosaic performers have joined the giant "sing-alongs" she's staged here the past several years. "One of my friends said, 'Your project should go to charity; think of causes you want to support,'" Willis says. "The first thing I thought of was arts in Detroit because everything's getting cut out of schools there.
"I'd heard about Mosaic, so we got together with Rick. It really was just as simple as: 'We have this money to give to someone. Do you want the money?'"
The bicoastal bouquets continue June 25, when Mosaic makes its New York debut at Joe's Pub, the performance space offshoot of the Big Apple's world-famous Public Theater with which Mosaic maintains a creative partnership. Oskar Eustis, the Public Theater's renowned artistic director and one of the men who helped launch Hamilton, came to see one of Mosaic's musical revues.
"He said, 'This is nice, but I don't think it will make people take you seriously here,''' Sperling says. "He wants our first New York appearance to be great, get a notice in the Times. He said, 'I want to stack the deck for you.'" He commissioned celebrated young playwright and poet Idris Goodwin — who, coincidentally, is from Detroit — to pen an original play that Mosaic will premiere at the pub.
"Beyond the money we raise, we're hoping this will energize the national profile of Mosaic," Sperling says. "One thing we struggle with is that we're not in LA or New York or Chicago, where the major media and entertainment centers are. So to be in LA and New York is huge."
In a city where 90 percent of public schools have no drama program, Mosaic — which boasts a 95 percent graduation rate over its 25 years — is arguably right where it needs to be. An anniversary reunion and gala event are planned for October, but one of the most visible signs of Mosaic's success can be found inside the organization itself: alum DeLashea Strawder, the associate artistic director and director of music programs, returned to Mosaic upon graduating from Wayne State University and has been on staff 15 years.
"I'm just honored and humbled to be a part of the experience, changing our city one young person at a time," Strawder says. "While the work we do is largely artistic, there is so much involved that allows young people to become better students, better citizens. If this was a STEM program, people would be banging down our doors to help fund the work we're doing."
The process certainly worked for Mosaic product Diamond Tigney, who will return to the Boston's prestigious Berklee College of Music in the fall for her senior year in music education. "It pushed me forward in ways that I didn't even expect," Tigney says. "I know for sure I would not be at Berklee if I hadn't had Mosaic training."
"Coming Up Taller: Mosaic Singers in Concert" comes March 17-19 to the Redford Theatre, 17360 Lahser Rd.; 313-872-6910; mosaicdetroit.org. Shows include a 10 a.m. student matinee Friday, a 7 p.m. performance Saturday, and 4 p.m. and 7 p.m. shows Sunday. The latter three performances are open to the public.