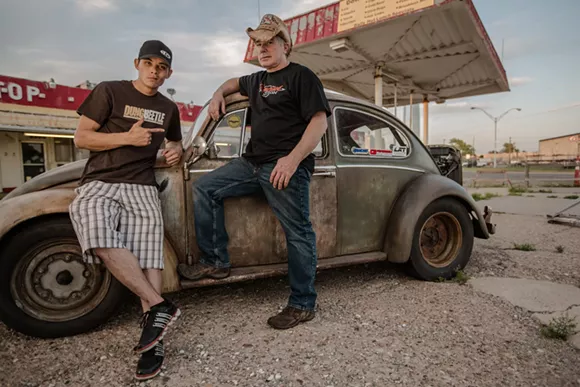 While all eyes are on the North American International Auto Show at Cobo Center this week, more details have surfaced for Detroit's
other
car show, the 64th Annual Meguiar's Detroit Autorama — which rolls into town Friday, Feb. 26 through Sunday, Feb. 28.
This year's event will feature 800 hot rods and custom cars, all competing for the coveted Ridler Award. The award is presented to to best new custom car, shown for the first time anywhere. The winning car gets immortalized as the topper on the next year's trophy.
As in past years, it's not just the cars that are the draw. Kicking things off at 11:45 a.m. on Friday, Feb. 26, Azn and Farmtruck from Discovery TV's
Street Outlaws
show will perform a live burn out and wheel stand demonstration in front of Cobo Hall.
At 7 p.m. on Saturday, catch a concert from The History Channel's Danny "The Count" Koker from
Counting Cars
, performing with his band The Count's 77.
Other guests include Olivia Holt, aka "Lindsay Watson" from Disney's TV show
I Didn't Do It
, from 1 p.m. to 3 p.m. and 4 p.m. to 6 p.m. on Saturday, February 27.
On Sunday, Horny Mike from
Counting Cars
and WWE's Daniel Bryan will be on hand from 1 p.m. to 4 p.m. on Sunday.
Downstairs, organizers will once again host the retro Autorama Extreme, featuring more than 200 traditional hot rods and custom cars. Continuing the retro vibes, Autorama Extreme will feature rockabilly bands as well as the annual Miss Autorama Retro Pin Up Girl contestat 5 p.m. on Saturday, February 27 at 5 p.m. There will also be the annual Toy-A-Rama show of toys, collectables, models, and other memorabilia.
For more information, hours, and ticket prices, call 248-373-1700 or see
autorama.com
.
The first Detroit Autorama debuted in 1953 at the University of Detroit Field House. Since then it moved to the Michigan State Fairground and the Detroit Artillery Armory before settling at Cobo Center in 1961. Read our interview with Autorama founding member Bob Larivee Sr.
here
.