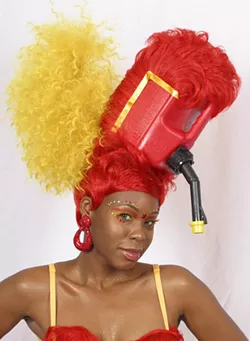 Hair Wars, Detroit's annual hair show, has been canceled. Yes, due to the coronavirus.
The event was going to be held on Sunday, May 17 at the Ford Community & Performing Arts Center. This year's event was going to be car-themed.
Full refunds have been issued.
Event organizer Hump the Grinder (aka David Humphries, a former DJ and promoter, aka "the Don King of Hair"), kept things lighthearted in a press release announcing the canceled date:
All you hair stylists, put down your curling irons
All you car lovers, turn off your engines
All you dj's, unplug your turntables,
And all you fashion-forward people, put your outfits (way) back in the closet

The May 17, 2020 Hair Wars –
"Hair Stars & Hot Cars"
has been 'officially' cancelled – because of you know what.
When they postponed the NBA season, we knew we were in trouble.

When we asked for a photo to run, Hump provided the following poem, which also made us chuckle:
Strap your wigs on tight, with all your might
Because that damn Coronavirus is in our site
So all you hair stylists – and barbers, too
This thing is much stronger than the flu
And it's true – it's NOT Corona the brew
But it's something that can actually kill you
And the United States doesn't seem to have a clue
as to what to do about this out of control virus
that's destroying the metropolis

Excuse me, Miss, but are you infected with the virus?
"Oh, just because I'm sneezing and not looking pleasing,
doesn't mean I'm diseasing"
Well maam, you should put a mask over your face,
while walking all over this place in disgrace –
Bye Felicia, I'm headed to outta space

Well on earth, this horrible infection
is going to affect the U.S. election
So we need a leader who can take a stand
and command an upper hand
to preserve our precious land
before those virus strands expand

So stylists and barbers, prepare yourself as a nation,
Through all this frustration and aggravation,
we need an explanation to save the next generation.

Be safe out there –
And say a prayer for your hair
See ya next year, Hump.
You can revisit a 2004 Hair Wars cover story by the late
MT
staffer Sarah Klein
here
.
We have a new events newsletter! Find out the best things to do in the area every Thursday morning in your inbox.