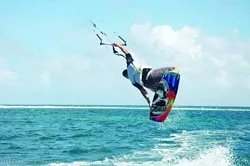 "It's a rush," says Brian LeFeve when asked about the appeal of kiteboarding.
LeFeve discovered the sport back in the late 1990s, when the place he was working as a windsurfing instructor received some kiteboarding equipment to check out.
With no one to learn from, LeFeve and his pals began teaching themselves.
"It was brutal," he recalls. "The learning curve was hellacious."
They were lucky they didn't kill themselves while learning the ropes, he says. In fact, he adds, one of his good friends unfortunately had his luck run out completely.
But that death didn't stop LeVeve, who got good enough at the sport that friends started coming to him for lessons, and then friends of friends, until it turned into a business.
Much has changed since the sport's early days, with advances in technology making kiteboarding considerably safer and easier to do. But it's still not something a person can try just by renting some equipment and giving it a whirl. In fact, he says, no one rents out the equipment because of liability issues.
Instead, you need to take lessons and buy the gear. As the owner of the Great Lakes Surf Shop in St. Clair Shores with his wife, Melanie, LeFeve, 42, can provide both. Two- and three-day training camps are offered from May through October, with the cost ranging from $499 to $649. Equipment runs from about $1,800 to $2,500, so it's not a cheap sport to get into.
But there's also nothing else quite like it, combining aspects of surfing, paragliding and, for those who are really into it, gymnastics.
With feet strapped to a board and a harness hooking you up to the kite (which is really more like a small parachute) the effect is like getting pulled by a truck, says LeFeve. Then, once you've picked up speed, you "pitch" the kite in the opposite direction, bringing you airborne.
"It's like getting launched from a slingshot," says LeFeve.
Beginners can usually stay aloft for only an instant. Pros like LeFeve stay up for as long as 10 seconds before landing back on the water, "soft as a feather," as he aptly describes.
For all the force that's involved, says LeFeve, part of what makes the experience so awesome are those brief spans in the air.
"It's like everything turns off and gets quiet," he says. "It's really amazing how tranquil it can be. It's kind of its own world."
There is something primal about the desire to fly, and kiteboarding is a unique way to fulfill that desire.
Because of the advances in equipment design, the sport has become much more accessible.
"The youngest student I've had was 7," he says. "The oldest is now 72."
Within the last few years, he's also seen more women giving it a try.
I tell him that I first saw people doing it on Lake St. Clair, out at Metro Beach. The wind there is better in the spring and fall, he explains. During the summer, he explains, the place to be is up on Lake Huron, near the town of Tawas.
"That area is one of the very best in the country for kiteboarding," he says.
As for those lacking the gumption to give it a try, well, that's OK too.
Curt Guyette is Metro Times news editor. Contact him at 313-202-8004 or [email protected]
Check out our kiteboarding slidshow here.